Industrial Buildings Trade at Eastside Research / Commerce Center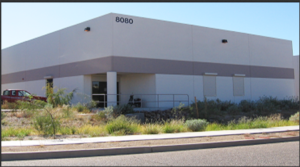 TUCSON, Arizona – Pokey Abode, LLC (Paul Bistline, manager) bought the industrial property previously by B/E Aerospace at 8080 E Research Court in Tucson for $780,000 ($68 PSF). B/E Aerospace vacated the building shortly after it was acquired by Rockwell Collins last year and the building had been vacant since then.
Bistline's company, Medical Technique, Inc. (MTI) is a leader in microscope lens and drapes. It is the first company to manufacture drapes with OPTICS ONE ™ the clearest lens in the world made from glass the only optically clear material which allows the surgeon to operate with perfect vision.
Prior to this transaction, Pokey Abode closed on the sale of 8060 E Research Court next door, for $900,000 ($91 PSF) to DTJ Investment, LLC (David Johnson, manager) to be owner occupied by Desert Aircraft. The 9,867-square-foot industrial space is to be the new headquarter for Johnson's company, an industry leader in manufacturing giant scale model remote control airplane engines.
Both properties are in the Eastside Research / Commerce Center.
Mark Biery with Berkshire Hathaway Commercial Real Estate Division of Tucson handled the sale of 8080 E Research Court and there were no brokers on the sale of 8086 E Research Court.
For more information, see RED Comp #7071 and #7069.
To learn more, Biery should be contacted at 520.235.2531.