Infrastructure Bill Brings Amtrak Between Phoenix and Tucson One Step Closer to Reality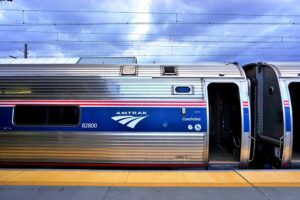 From The Copper Courrier:
Move over, I-10—passenger rail is one step closer to connecting Phoenix and Tucson 🚆  Phoenix is the largest US city without intercity passenger rail, but that may soon change. The bipartisan infrastructure bill signed by President Biden earlier this week approves $66 billion in new funding for Amtrak. Amtrak has proposed building a new line in Arizona with eight new stations and would run three daily round trips between Phoenix and Tucson. The trip would take just under 2 ½ hours one way. The company estimates it would take about three years to get the route up and running. Amtrak predicts the new route would attract about 200,000 riders annually, taking those passengers off the clogged I-10.