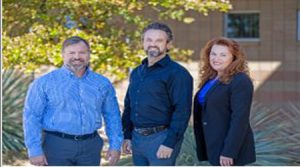 TUCSON, ARIZ., October 30, 2023 -- The University of Arizona Center for Innovation (UACI) is pleased to announce one winning startup of the UACI Sponsored Launch program fueled by City of Sierra Vista and the Southeastern Arizona Chamber Foundation. Southern Arizona based company Port 194 will receive one sponsored year of admission into the UACI incubation program thanks to the generous financial support of the Sierra Vista sponsors. Program entrance includes resources, services and expert guidance to grow a business.
Port 194 provides custom tools, training, and analysis specializing in big data geolocation and visualization.
UACI provides the people, programming and places needed to scale a business.  Access to UACI grants the winning startup with support through a structured 27-point program roadmap. Entrepreneurs have a direct line to UACI's mentors and subject matter experts who guide them in turning their idea into a product.
"The City of Sierra Vista is excited to sponsor our first business, Port 194, in the UACI Incubator, adding to the entrepreneurial ecosystem in the city. Our partnership with the Chamber Foundation, SVIDA, and UACI will make significant contributions to improve our economy through growing our local tech-based businesses," said Tony Boone, Tourism and Economic Development Director City of Sierra Vista.

"Partnerships propel business. The Southeastern Arizona Chamber Foundation's partnership with UACI, the City of Sierra Vista, and the Sierra Vista Industrial Development Authority via Sponsored Launch represents the convergence of innovative ideas and strategic partnership. Our region, in Southeastern Arizona, is science and tech based. Port 194 offers forward-thinking technology to support other businesses which ensures they are working directly with valid and ethical companies worldwide. We stand in support of Port 194 and we're eager to see their growth," said Melany Edwards-Barton, CEO, Southeastern Arizona Chamber Foundation.
The winning startup was selected because of their work on solutions for real-world problems and for their desire to make a significant difference in the local and global communities through innovation.
UACI collaborates with community organizations to provide sponsored support into the incubator network through a competitive process.  Applications were reviewed by a panel of community champions and the winner was selected by the following panel of judges:
Dean Gary Packard, Dean of College of Applied Science and Technology, University of Arizona
Jennifer Sorenson, Publisher, Herald/Review Media
Jay Williamson, President and CEO, American Southwest Credit Union
Vanessa Laurin, Owner, Tell Mama Lounge
Sponsored Launch was created to offset the cost of starting a business to provide more opportunities for startups to successfully launch into the marketplace, while also raising community awareness around the importance of providing support for entrepreneurs at the local level. Sponsored Launch provides a platform for organizations and municipalities to invest in small businesses while also receiving acknowledgement of their goodwill. This unique collaboration between the incubator and community elevates impact by expanding offerings and stretching resources out to the community.
PHOTO: Tony Boone, Tourism and Economic Development Director City of Sierra Vista; John McCary, Founder Port 194; Melany Edwards-Barton, CEO, Southeastern Arizona Chamber Foundation.