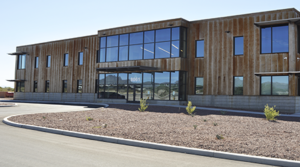 Marana, Arizona – Two affiliates of Tucson- based, International Towers, Inc. (ITI), ITI Building, LLC and Marana Technology Campus, LLC sold the building it occupies at 8061 West Tangerine Road in Marana for $4 million ($204 PSF) in a sale leaseback transaction.  The buyer is a local investor, I & J Flynn Investments Limited Partnership, LLP.
The 19,586-square-foot building siting on approximately 5-acres was built in 2017 and the sale included 5-acres of excess land for future expansion. International Towers (ITI) constructed the building as a built-to-suit and will continue to occupy it as a tenant in a triple net sale leaseback agreement with the buyer.
ITI is the tower Site designer and construction contractor supporting Elbit Systems of America, the prime Government contractor for the U.S. Customs and Border Protection's (CBP) Integrated Fixed Tower (IFT) Program. The Elbit Systems of America team has achieved customer acceptance of the initial Nogales, Arizona Area of Responsibility (AoR) and has begun deploying the second IFT AoR in Douglas, Arizona.
ITI designed, manufactured, and installed the fixed tower infrastructure for the IFT tower surveillance solution. The delivery of the system was made possible through seamless and intensive collaboration with the Elbit Systems of America Team and CBP.  ITI President, Douglas J. Gratzer, acknowledges, "As a small business based in Tucson, Arizona, ITI is proud of the role we played in supporting Elbit Systems of America and U.S. Customs and Border Protection in successfully deploying the first IFT AoR in Nogales. This is a significant accomplishment."
The IFT border security system is an integrated network of surveillance technology that is able to detect, identify, and classify items of interest (persons, vehicles, etc.) and allow CBP the ability to prioritize and determine resource allocations in order to respond to these detections.
Tom DeSollar with Arizona First Properties in Tucson represented the seller in the transaction and also handles the Marana Technology Campus with an additional 19-acres available for development. The campus is zoned heavy industrial with roads and infrastructure in place, including Marana water and fiber optics.
Ed Henne with Long Realty of Tucson represented the investor in the transaction.
For more information, DeSollar can be reached at 520.400.2732 and Henne should be contacted at 520.918.5989.
To learn more, see RED Comp #5894.