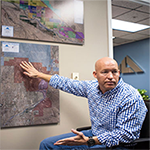 TUCSON, ARIZONA — A recent study by RCLCO entitled Consumer Interest in Master Planned Communities Exceeds Supply is reporting that a vast majority of homebuyers are targeting their purchases within master planned communities (MPC's) across the country, including Arizona. They gave a host of reasons for this trend, including:
Wide variety of offerings (Builders / Product Lines)
Amenities (Walking trails, fitness center, pool, tot lots, etc…)
A sense of a 'neighborhood'
Location of MPC
Nowhere is this more true than here in Tucson. Tucson's homebuilders have reported a dramatic increase in traffic and demand for homes in the regions MPC's. Due to this increase in homebuyer demand, the developers of these MPC's have, in turn, provided Tucson's home builders with a streamlined process to continue to provide quality homes for the next several years. Homebuilders have been extremely active in acquiring lots in these projects over the past 18 months and there looks to be no slowing in sight. This is being driven, in main part, by consumer demand for homes in these projects. Sales, Permits, and average sales price have all increased substantially in Tucson's MPC's over the past 24 months.
We spoke to Will White, who runs the Tucson office of Land Advisors Organization (LAO) and who represents the vast majority of Tucson's larger master planned communities and asked him why he believes this is the case.  Here are his comments:
"Without question, the Tucson metro area has seen a huge resurgence in demand for master planned communities, both by homebuilders and homebuyers since the downturn. Tucson's homebuilders purchased over 60% of their lots this year in the region's active MPCs and we think that share will grow to 75% over the next 2 years. This means 3 out of every 4 lots purchased in Tucson will be purchased in these projects going forward"
In addition to builders providing their customer-base what they want, his response also focused on why being in MPC's is so critical to homebuilders. Specifically, he pointed out:
Efficiency:
"There is little debate that the industry's main challenges are affordability, costs increase (both on the horizontal and vertical side), and overall timelines for lot and home delivery. The master-plans simply are providing the "path of least resistance" to these challenges for Tucson's homebuilders by streamlining the development process, providing "shovel ready" lots, which provides a "conveyor belt" of constant, predictable lot supply, which in turn gives them clarity in lot inventory pipeline and forecasts for their local division."
Affordability:
"Affordability is the most significant issue facing homebuilders nationwide as well as here in Tucson. Local homebuilders have responded by providing smaller lots and a more "spec heavy" program in an effort to get to more affordable levels. MPC's have been and will continue to be the "go to" place to accomplish these objectives as they have the zoning and flexibility required. Due to the current metrics of supply and demand, the home prices in Tucson look to be headed up for the next 24 months. As the homebuilders look for affordable options, the MPC developers will be ready and willing to provide it."
Performance and future potential:
"In many cases, absorption and homes pricing has surpassed pre-recession levels in these projects. The builders have experienced strong pace and price points which is making it much easier for them to underwrite their next purchase in these communities. That is one reason why there is so much acquisition activity, easier to buy more lots where you are already successful. The new era of Tucson's MPC are providing new style of amenities, a strong mix of builder product, and great Tucson locations. The developers of these projects are constantly looking at ways to provide an exceptional sense of place and community in an era of changing demand and trends. What was big news in Tucson this year was the launch of new projects such as Rocking K and Gladden Farms II. These were significant because it was developers putting large scale infrastructure in the ground to ensure their homebuilders can continue to have a path to be successful for years ahead. We expect to see more advancing of infrastructure into 2020 with projects like Red Rock and Star Valley. This infrastructure was the main hold-back for our market for the last decade."
Era Change:
"As successful communities such as Rancho Vistoso and Dove Mountain look to their last phases, communities such as Gladden Farms and La Estancia have seen the most success in lot sales and builder mix over the past few years. Both of these projects have seen a dramatic increase in demand and average sales price increases and currently have strong multi-builder platforms. The next era of larger MPC's is underway with the launch this year of Rocking K. Rocking K set the tone for multi-builder purchases that will continue, market wide, into next year. 2020 will be a big year for these active projects and new offerings such as Red Rock and Star Valley. Thanks to the region's developers and builders working in sync, Tucson is finally opening what appears to be a significant runway for growth. Even to sustain moderate new home permit growth, Tucson will need around 24,000 lots to be built and delivered to homebuilders in the next 5 years alone. It will be a challenge and these projects will continue to be the driving force and focus of the homebuilders for that lot supply."
White stated that while there will continue to be high demand  for lot purchases throughout the Tucson MSA, he expects the trend towards these masterplanned communities to continue to heat up for the foreseeable future (18-36 months) and also remarked " We are seeing a changing of the guard as preferences have changed, product has changed and the overall delivery has changed. It's a pretty unbeatable combination that we are seeing right now in Tucson." Food for thought for us all…