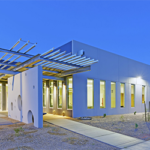 TUCSON, AZ — The newly build Social Security building at 3808 N First Avenue in Tucson sold for $6.95 million ($363 PSF) to a California investor, Pepper Lane Properties of Los Gatos, CA (Myra Reinhard, member).
The Tucson Social Security Administration (SSA) Branch Office is a new, state-of-the-art, 19,140 -square-foot office facility on 2.25-acres. The building was developed as a new build-to-suit location for SSA in 2014 by the seller, Valencia Imperial, LLC of Poway, CA (Craig Metz, manager)
It features exceptional architecture and high-quality construction according to strict federal government standards. The building was designed and constructed to achieve LEED Silver Certification, which demonstrates the sustainability and energy efficiency of this facility.
The property is leased to the U.S. Federal Government on a long-term basis via the General Services Administration (GSA), with a new 15-year lease term that commenced in April 2014. The lease is firm for the entire term, with no termination rights, which is an exceptionally rare lease structure for the government. The non-cancellable aspect of the lease greatly enhances the value of this asset, and ensures secure and consistent cash flow throughout the term. The lease is guaranteed by the United States of America, which has a credit rating of Aaa from Moody's Investor Services and sold at 6.49% cap rate at time of sale.
The property is situated in the highly sought-after central submarket of Tucson, which benefits from consistently strong investor demand.
Travis and Jake Trautvetter of Cushman & Wakefield in San Diego handled the transaction.
Travis can be reached at 858.558.5609 while Jake should be contacted at 858.558.5624.
To learn more see RED Comp #4235.