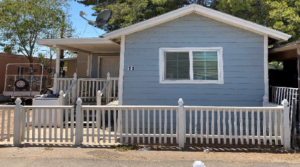 JLL Capital Markets arranges a $46.44M refinance of a 17-property portfolio in the Phoenix area
SAN DIEGO, CA– JLL Capital Markets announced today that it has arranged $46.44 million in financing for a manufactured housing portfolio totaling 1,050 home sites within 17 manufactured home communities in the Phoenix and Tucson metropolitan areas.
JLL worked on behalf of the borrower, a joint venture partnership between an institutional investor and Treehouse Communities to secure the three-year, floating-rate loan through a balance sheet bridge capital source. Loan proceeds were used to recapture equity and provide funds for capital improvements to the properties.
The portfolio comprises 16 communities well-located in the Phoenix area and one property in the Tucson MSA. All the communities have convenient access to major highways and Interstates 10 and 17. Of the 1,050 home sites, 179 of the homes are park-owned.
As one of the fastest growing metros in the nation, Phoenix has nearly doubled in size since 1990 and ranks seventh in population growth this decade. The city is forecasted to remain a top growth market for the next five years due to strong employment and in-migration and remains the top market for multifamily rent growth in the nation.
The JLL debt placement team leading the financing efforts included Managing Director Zach Koucos and Director Chris Collins as well as Senior Managing Director Jeremy Womack.
"Due to rising single family home prices, manufactured home communities have experienced strong occupancy and revenue growth and as a result, rising investor interest," noted Koucos.
JLL Capital Markets is a full-service global provider of capital solutions for real estate investors and occupiers. The firm's in-depth local market and global investor knowledge delivers the best-in-class solutions for clients — whether investment advisory, debt placement, equity placement or a recapitalization. The firm has more than 3,700 Capital Markets specialists worldwide with offices in nearly 50 countries.