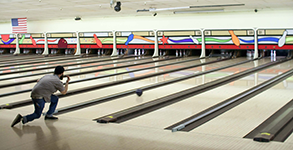 iStar Financial is acquiring a portfolio of 58 bowling centers around the country from Lakesville, Ill.-based marine engine and sporting equipment manufacturer Brunswick Corporation.
iStar committed to buying the bowling center portfolio for $200 million and will lease the 58 properties to Mechanicsville, Va.-based Bowlmor AMF Corp., which agreed to acquire Brunswick's retail bowling business for $270 million. In total, Brunswick is selling 85 centers in the U.S. and Canada as well as its bowling products business.
Sources say the New York-based REIT in August took steps to secure a $120 million loan with a term of five or 10 years and was seeking $120 million for the acquisition.
The bowling centers to be acquired by iStar are located in and around Los Angeles, Atlanta, Chicago, Minneapolis, Denver, Phoenix and Dallas and all have bondable 20-year triple-net leases, according to a person familiar with the transaction.
One of the centers in the portfolio to iStar is Camino Seco Bowling Lanes at 114 South Camino Seco in Tucson that recently transferred for $1.794 million ($64 PSF). The 28,049-square-foot bowling center (built 1976) has 32 lanes, 3 billiard tables, arcade games, lounge, snack bar and pro shop.
The portfolio acquisition began in August and is expected to be completed within the month.
iStar Financial Inc. (NYSE: STAR) is a fully integrated finance and investment company focused on the commercial real estate industry. The Company provides investment capital to high-end private and corporate owners of real estate and invests directly across a range of real estate sectors. The Company is a real estate investment trust (REIT). The Company operates in four segments: Real Estate Finance, Net Leasing, Operating Properties and Land. The Company's portfolio also includes senior and subordinated loans to corporations, particularly those engaged in real estate or real estate related businesses and may be either secured or unsecured. The real estate finance portfolio is primarily comprised of senior and mezzanine real estate loans that may be either fixed-rate or variable-rate and are structured to meet the specific financing needs of borrowers. The Company's loan portfolio includes whole loans and loan participations.