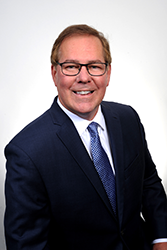 Lou Newman joins the firm as Senior Vice President
PHOENIX, Arizona – JLL announced today that they have added Lou Newman to their Valuation and Advisory Services Team as Senior Vice President. He will be based in the firm's Phoenix office and is a nationally recognized expert in the field of property tax.
Newman will provide JLL's clients with full service property tax consulting including due diligence, tax liability forecasting, proactive engagement with taxing authorities, administrative challenges, litigation, compliance, and guidance on exemptions, parcel reconfiguration, proposed construction, and transactions.
"Lou is considered an important voice in the industry and his deep knowledge of tax issues and diverse experience will provide our clients with a greater understanding of the perspective of all stakeholders in the complex property tax process," said Michael Welch, JLL's head of Valuation and Advisory Services in the U.S.
Before joining JLL, Newman was a Senior Tax Manager for a leading retailer where he represented the company throughout the United States, led regional practices, managed tax policy related to legislation, and chaired training for the company's Global Tax Controversy Center for Expertise. Prior to that, Newman was a national practice consultant. He also has leadership experience in the public sector. As the Supervising Appraiser in the Major Properties Division of the Office of the Maricopa County Assessor in Phoenix, Newman led the team in the management of administrative challenges and litigation.
Newman is a member of the International Association of Assessing Officers (IAAO). He has served on the organization's Board of Directors, and twice received the Harry Galkin Award for private sector service. He is a member of the Institute for Professionals in Taxation (IPT), and has spoken at the organization's Annual Conference and Property Tax Symposium. He also serves as an advisor to the International Property Tax Institute (IPTI).
For his work in the Volunteer Income Tax Assistance (VITA) program, Newman received the certificate of recognition for outstanding public service from the Department of the Treasury. He is a Licensed Real Estate Broker, Certified General Appraiser, and Marshall & Swift Trained Appraiser. He holds Level III Certification with the Arizona Department of Revenue and Advanced Accreditation with the Oklahoma Tax Commission. He is a designated member of the Royal Institution of Chartered Surveyors (RICS).
JLL's Valuation and Advisory platform leverages the firm's global experience and deep knowledge of local real estate markets to provide accurate, reliable evaluations of a wide range of commercial property types. JLL performs valuations and appraisals for single assets, global portfolios and a range of property types.
For more news, please visit The Investor, an online and mobile app news source providing real-time commercial real estate news to asset buyers and sellers around the world.
For more news, videos and research resources on JLL, please visit the firm's U.S. media center Web page: https://bit.ly/18P2tkv.