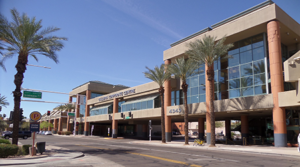 Redundant power and Class A amenities create prime space for major back-office tenants
PHOENIX, Arizona – Expertise in high-performing back-office product has earned the Phoenix office of JLL the exclusive listing assignment for the Concourse Level of the Scottsdale Galleria – a 140,000-square-foot space offering triple redundancy and the Class A amenities to attract major, power-dependent back office tenants to the heart of Old Town Scottsdale, Arizona. 
JLL Managing Directors Dave Seeger, Karsten Peterson and Mark Gustin will manage the listing for building owner Stockdale Capital Partners. 
"For companies requiring extremely high-performing space that can accommodate a significant employee count, the Scottsdale Galleria's Concourse Level is the whole package," said Gustin. "The building has a level of power support that is unmatched – and really unheard of – in typical office space, all wrapped in a Class A building with the location and amenities that companies today need to have on their side to attract and retain top employee talent."
The JLL assignment is exclusive to the Galleria's Concourse Level, which encompasses three individually submetered suites: 88,750-square-feet (divisible), 25,954-square-feet (with 8,000-square-foot mezzanine) and 17,718-square-feet (plug-and-play with more than 230 workstations, eight conference rooms, four private offices and a break area, all served by Cat6 wiring, a white noise system and 17-foot slab to deck ceiling height.) 
Located at 4343 N. Scottsdale Rd., the Concourse Level is part of the larger Scottsdale Galleria development, which totals approximately 560,000-square-feet in two, three-story buildings. The buildings are linked by an above-ground walkway and connected to a 2,058-space parking garage with four stories below ground and eight stories at or above ground, delivering a 6/1,000 parking ratio.
From a power perspective, the Concourse Level is dual fed, served by 9 MW of power on overlapping grids from divergent substations, and with back-up systems to ensure zero power interruption. Each suite offers an Intermediate Distribution Frame (IDF) room and state-of-the-art HVAC system supporting seven-days-a-week operation. They also have direct access to five sets of restrooms, four passenger elevators, two freight elevators, five docks and four load levelers.
"Suites within the Concourse Level can provide unmatched redundancy, which is essential for the tenant that cannot afford or risk down time," said Peterson. "This is the place where the lights never go out and where the air inside the building is cleaner than the air outside. It represents an exciting opportunity to attract a new set of established, modern companies to the Old Town Scottsdale submarket."
According to JLL, the South Scottsdale submarket (which includes Old Town Scottsdale), has one of the Valley's highest asking office rental rates, at $31.45 per-square-foot, and a low vacancy rate of 15.7 percent. The Maricopa County Association of Governments projects that Scottsdale will remain one of metro Phoenix's leading employment and high-growth centers, with an employment base expected to increase by nearly 60,000 positions through 2030.
With a 93 percent walkability score from walkscore.com, the Scottsdale Galleria is minutes from the restaurants and shops of Old Town Scottsdale, major residential developments and the 1.9-million-square-foot Scottsdale Fashion Square. It is approximately six miles to Arizona State University's main Tempe campus and 10 miles to Phoenix Sky Harbor International Airport.