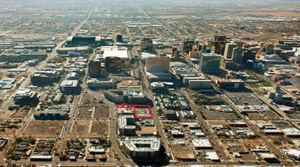 Rising rent, employment and population growth keep demand high
PHOENIX, Arizona – The Phoenix office of JLL has completed the sale of just over 1.3 acres in the heart of downtown Phoenix. The buyer plans to use the land for a yet-to-be-named residential high-rise development project, in a sector of downtown that is thriving with rent, employment and population growth.
JLL Executive Vice Presidents John Cunningham and Charles Steele represented the property owner, Third and Pierce Development LLC, in the $6.62 million transaction. The buyer was Clark Street Holdings LLC.
Located on the northeast corner of 3rd and Pierce streets, the multifamily site sits directly adjacent to the 30-acre Phoenix Biomedical Campus and is within blocks of Arizona State University's Downtown Campus, Light Rail, more than 150 restaurants and 800,000 square feet of other amenities such as sports, culture and retail destinations. The property is also less than one mile from the State Capitol and Interstates 10 and 17, and just two miles from Sky Harbor International Airport.
"Over the past decade, more than $4.6 billion has been invested in downtown's two square miles. Factors ranging from university campus expansions and Light Rail to corporate and employment growth have also spurred the addition of all types of new amenities and led thousands of new residents to the area – with a great deal more expected to follow," said Cunningham. "This property is in an exceptional position to capitalize on that revitalization."
According to JLL, downtown Phoenix multifamily rents increased 4.3 percent in 2016, despite it being one of the Valley's most actively built submarkets. Those rents are projected to continue their strong growth, as is renter demand, thanks to more than 10,000 new residents expected to move to the area within the next five years.
"Downtown Phoenix currently has the highest concentration of employment in the state, with more than 71,000 employees in just a one-mile radius," said Steele. "That is a very attractive statistic for any developer looking to establish an urban, transit-oriented residential community like the one being considered for this site."