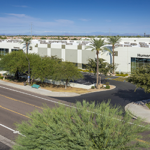 PHOENIX, AZ – With job growth continuing to show year-over-year gains, the Phoenix area is experiencing tremendous industrial activity. On behalf of Invesco, JLL's Capital Markets experts today announced the sale of the Tempe Commerce Park in Tempe, Arizona. BKM Capital Partners purchased the five-building park, which totals 539,979-square-feet of rentable area.
Managing Directors Mark Detmer, Bo Mills and Dave Seeger, and Executive Vice President Steve Sayre led the JLL team on the deal.
"This sale really exemplifies the type of momentum the Phoenix industrial sector is seeing right now," said Detmer. "Tempe Commerce Park offered the buyers the chance to enter a market that is seeing steady growth – thanks largely to major industrial and technology companies. We anticipate the market to only get stronger as the city expands."
Tempe Commerce Park offers a premium location next to the Phoenix metro area's largest thoroughfares – the I-10, 101 and Loop 101 freeway – as well Sky Harbor International Airport. Aside from warehouse space, the five buildings also include a total of 274,724 square feet of office/flex space, all of which is fully air conditioned.