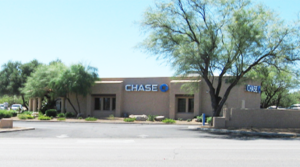 Green Valley, Arizona — JP Morgan Chase bought its own bank branch at Continental Plaza in Green Valley for $2 million.
CRW Holdings, LP of Little Rock, AR, sold the 4,592-square-foot Chase bank branch at 201 West Continental Road to JP Morgan Chase for  $436 per square foot, records show.
The C. Randolph Warner family (CRW Holdings) had purchased the property in 1994 for $465,000, according to records. The branch was built in 1981. It sits on an acre pad in Continental Shopping Plaza at Continental Road and I-19.
JP Morgan Chase ranks as the largest bank in the United States by assets.
There are two Chase branches in the Green Valley area. The other is at 151 W Esperanza Boulevard.
Across the country, U.S. bank branches have been closing at the rate of more than three a day for the last 10 years, according to the Federal Deposit Insurance Corp.
"Given the shelter-in-place orders, the COVID-19 pandemic has accelerated mobile adoption," with teller transactions down "30-to-40%" this year, as bank-by-phone replaces standing in the teller line, according to a report to clients by Michael Perito, regional bank analyst for Keefe Bruyette & Woods, a New York investment bank.