PHOENIX, Arizona – Transwestern Commercial Services (TCS) today announces it has been selected to provide leasing services for Madison Square, a four-building office campus with a rich boxing and educational history near downtown Phoenix. TCS Managing Director Mark Stratz and Senior Vice President Scott Baumgarten are leasing the 310,000-square-foot property at Seventh Avenue and Van Buren Street. Executive Managing Partner Jim Fijan represented the seller in the trade to KBS/Verus, marking his third time to broker the sale of Madison Square.
Madison Square overview
"Madison Square is an appealing space for businesses that want a flexible and creative environment steeped in Phoenix's unique history," Baumgarten said.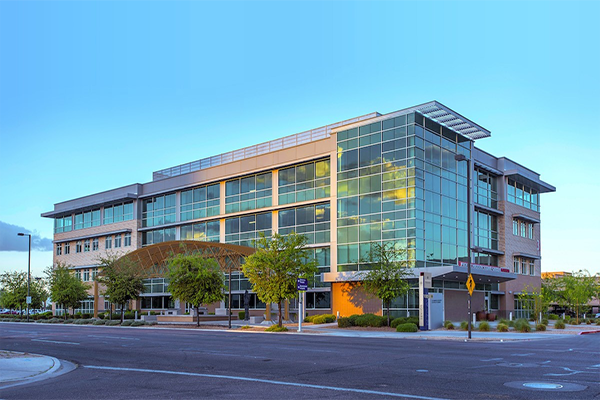 100 Seventh Ave.
Madison Square is located at the former site of the iconic Phoenix Madison Square Garden, which featured boxing and wrestling matches and music legends. Built in 1929 as the largest indoor arena in the city, Phoenix Madison Square Garden once hosted John Henry Lewis, Zora Folley, Johnny Cash, Wayne Newton, and Marty Robbins, among many others. The site is also home to the historic Grace Court School building, designed in 1911 and still standing. The campus has several pieces of art incorporated throughout the design, including steel trusses from the original Phoenix Madison Square Garden building.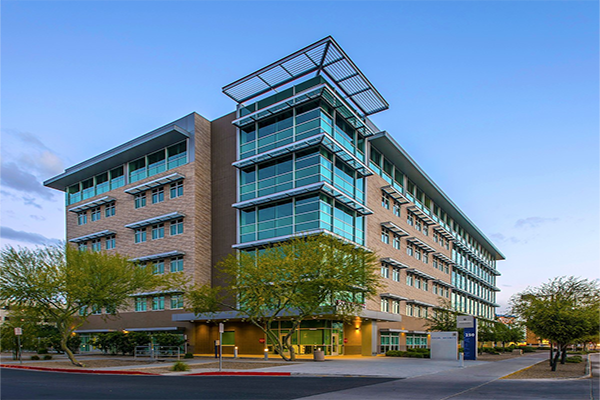 250 Seventh Ave.
"Madison Square offers businesses the rare chance to join a piece of Phoenix history," Stratz said. "The property's rich history will inspire creativity while the functional design and amenities meet the requirements of today's tenants."
The buildings offer efficient and functional floorplates, collaborative indoor/outdoor workspaces, and a five-level parking garage with an above-market parking ratio. The campus includes:
100 Seventh Ave., a modern, Class A building with 94,245-square-feet
250 Seventh Ave., a modern, Class A building with 136,852-square-feet
800 W. Adams St., previously the Grace Court School, a neo-classical building with 31,842-square-feet
850 W. Adams St., a fully leased building with 47,947-square-feet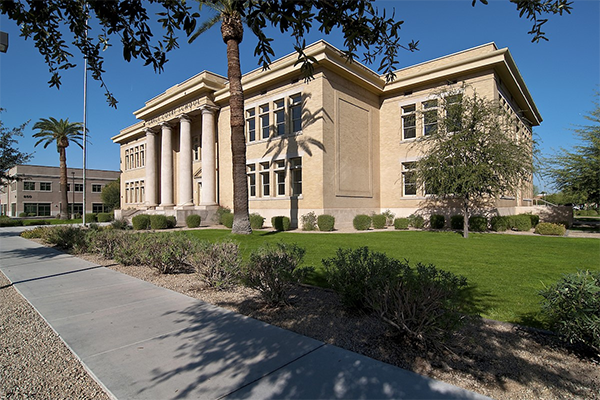 800 West Adams
An adaptive reuse project, 800 W. Adams St. was completely remodeled in 2006 with an updated electrical and lighting system, roof, elevators and large handicap-accessible restrooms. All the double-hung windows were completely rebuilt and are fully functional.
The other three buildings were constructed in 2008. There are plans to renovate the lobby at 100 Seventh Ave. The buildings are flexible for a variety of users in technology, media, finance, healthcare and government that need 10,000- to 80,000-square-feet. The property has 174,000-square-feet of office space available for lease, including entire floors and a speculative suite.
Madison Square is near the Arizona State Capitol, municipal justice system, Phoenix City Hall, Comerica Theatre, Arizona State University Downtown Phoenix Campus and numerous other businesses and government agencies in the Central Business District. Current tenants include the Arizona Commerce Authority and Arizona Office of Tourism.
Stratz and Baumgarten have an extensive track record in downtown Phoenix. They have been involved with leasing Park Central Mall, the Heard Building at 112 N. Central Ave., Arizona Center, and Lincoln Union at Fifth and Lincoln streets.