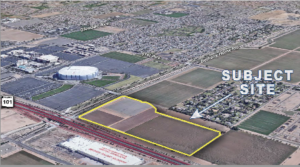 Scottsdale, AZ — Kent Circle Partners (Scott Seldin, President) completes the sale of a 15-acre parcel just south of State Farm Stadium, off Cardinals Way, formerly Bethany Home Rd., between the loop 101 and 95th Ave., in Glendale, Arizona.
The parcel was sold for $6,533,428 and was located within the southern 63.13-acre tract, referred to as Centerpoint, a Planned Area Development (PAD), entitled by Kent Circle Partners. The property was previously under the CBD 101 PAD.
The buyer, Investment Development Management, LLC, headquartered in Vancouver, WA, is planning to build 352 luxury apartments called ACERO Glendale on the property.
In March 2012, Scott Seldin and Millard Seldin bought the land to hold for investment as Arizona was beginning to dig out of the recession, noting its freeway access and zoning advantages.
"The proximity to the Arizona Cardinals Stadium and the momentum surrounding Glendale's Westgate entertainment district made this an exciting place to have real estate," says Scott Seldin.
In 2017, IKEA was under contract to buy the entire 63.13-acre tract for a second store in the Valley. By spring 2018, the company had announced the cancelation of new store openings as part of a new corporate strategy to focus on e-commerce.
Nate Nathan and Courtney Buck of Nathan & Associates, Inc. represented the seller in this transaction. Brian Stillman of Insight Land & Investments represented the buyer.