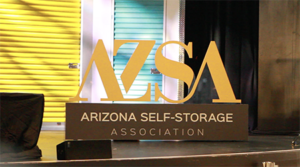 PHOENIX, ARIZONA – Getting back to the best of times. Understanding the legalities of the "new normal." The economics of the self-storage industry.
These and other topics will highlight the 22nd Annual Arizona Self-Storage Association Conference & Trade Show Feb. 17 and 18 at We-Ko-Pa Casino Resort, 10438 N. Fort McDowell Road, Fort McDowell, Arizona. The Arizona Self-Storage Association (AZSA) is the trade association that represents the self-storage industry in Arizona.
The conference comprises the Owners and Investors Summit on Feb. 17 and the Operational Symposium on Feb. 18. The annual golf tournament precedes the conference Feb. 16 at We-Ko-Pa Golf Club.
"We are elated to be presenting this conference. It's been a long time in the making. The last conference was in 2019 so the members are wanting to reconnect and be engaged," said AZSA Executive Director Amy Amideo. "There are so many reasons to celebrate, however, the main reason is this is AZSA's 25-year anniversary.

"The program is a great mix of both national and regional speakers. Their topics will assist our owners and managers to continue to evolve, be informed, and entertain. Our vendors are a fusion of new technologies as well as the tried and true. It's great to be honoring our past while embracing our future."
AZSA and The BSC Group kick off the conference Feb. 17 with the Owners and Investors Summit. The opening discussion, "Can the Worst of Times Deliver the Best of Times?" will be presented by John Chang of Marcus & Millichap.
Other presentations on the first day include "Understanding the Legalities of the New Normal," by Scott Zucker of Weissman/Zucker; "Latest on the Economics of Self-Storage" by Chris Sonne of Newmark Valuation & Advisory; and the Legislative Forecast by Barb Meaney and Lourdes Pena with Triadvocates. The AZSA 25th Anniversary Celebration will cap the day.
The Operational Symposium kicks off Feb. 18 with "Why? Understanding Management Summary Reports, Revenue Management and More" by John Manes of Pinnacle Storage Properties and Pinnacle Storage Managers. The final presentation is "My Lost Brothers: The Untold Story by the Yarnell Fire's Lone Survivor" by Brendan McDonough.
The conference will include vendor/sponsor exhibits.
Registration fee is $140 (early bird) ends Jan. 17; $165 (standard pricing) ends Feb. 12; and $195 (last minute). For owner/operator members; $190 (early bird) ends Jan. 17; $215 (standard) ends Feb. 12; and $240 (last minute) for owner/operator non-members. Register here.