Groundbreaking at Laguna Springs Senior Community in June of 2018
Elk Grove, CA — Koelsch Communities, a leader in senior living since 1958, will break ground in June of 2018 on Laguna Springs Senior Community. Laguna Springs will be a premier, resort-style senior living campus that will open in December of 2019, whose location was in response to the growing demand for quality senior services in the Elk Grove region.
The Laguna Springs Senior Community will total roughly 240,000-square-feet, with a project cost of $71 million. The community will stand on a centrally located 11-acre site, and will be home to The Park at Laguna Springs Independent Living and The Gardens at Laguna Springs Memory Care.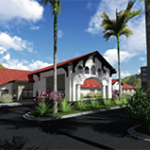 The Park will be a stunning 3-story structure offering the pinnacle of independent living to residents in 135 apartments and 16 single-story casitas. The Gardens will be home to 70 residents who may be challenged with various forms of memory loss. The entire community will be furnished with state-of-the-art features and amenities, and deliver world-class service to it's residents.
The Laguna Springs Senior Community will employ licensed nurses on-site 24 hours a day, offer over 200 stunning new living spaces, and create over 100 new jobs in the city of Elk Grove. In development, the project will employ over 200 tradespeople from the Elk Grove work force.
The project will be managed by Koelsch Communities and developed by Koelsch in partnership with RJ Development, with Koelsch Construction acting as general contractor. The interior design will be fashioned by Judy Koelsch and David Goularte of JSK Design in a way that captures the beauty, distinction and history of the Elk Grove region.
The Laguna Springs community will be located on the Southwest corner of Laguna Springs Drive and Civic Center Drive in Elk Grove, CA.