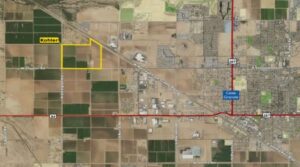 Land Advisors Organization facilitated the multi-million transaction, representing the seller at the 1,064-acre Pinal County Tech Park.
Scottsdale, Ariz. – Land Advisors Organization is pleased to announce it recently closed on 206 acres, representing the seller, at the 1,064-acre Pinal County Tech Park in Casa Grande, Arizona. The buyer, Kohler Co., a global leader in kitchen and bath products, announced it will build a greenfield plumbing products manufacturing facility, ancillary warehouse, and office space on the site.
Land Advisors Organization's advisors Kirk P. McCarville, CCIM, and Pinal County Specialist Trey Davis represented the seller, Pinal County Tech Park. The multi-million capital investment comprises a total of approximately 1 million square feet, with room for future expansion. The facility will bring more than 400 new full-time jobs to the area.
The first 400 acres at the rail-served industrial Pinal County Tech Park have now closed – 216 acres to Kohler Co., 100 acres to Walbridge Construction, and 84 acres to Cheng Chun Chemical Products.
"Facilitating this deal, knowing that it will bring good jobs to Casa Grande residents, and important tax revenue to our community make it incredibly rewarding," said McCarville. "Bringing in another nationally recognized name like Kohler has created even more interest by other manufacturers and suppliers looking to re-shore or expand their facilities. Economic development efforts by our city and county leaders are paying off, and companies are seeing that Casa Grande has the infrastructure they need as well as affordable housing and great schools that their employees need."
Kohler will produce its high-growth lines of STERLING Vikrell bath and shower fixtures – popular among large single-family homebuilders and multifamily developers, and retail big box stores – to support increasing customer demand. The facility will also serve as a distribution center for these products, to best serve Kohler's growing customer base in the Western U.S. with reduced lead times and delivery efficiency.
Set to be operational by August 2023, Kohler's new manufacturing facility will incorporate smart factory elements and cutting-edge production technology. The facility will also incorporate key sustainability measures to reduce greenhouse gas emissions, water, and solid waste. Several alternate energy strategies are also being evaluated.
Once completed, the site in Casa Grande will be Kohler's second Vikrell production facility, joining Kohler's existing eastern facility in Huntsville, Alabama.
Pinal County Tech Park is a two phase, ±1,064-acre, rail-served industrial park. With its proximity to the TSMC semiconductor factory and Intel expansion plus Lucid Motors and Nikola, the Pinal County Tech Park has received a tremendous amount of interest from the semiconductor supply chains and the Tier 1 and Tier 2 electric vehicle manufacturer suppliers.