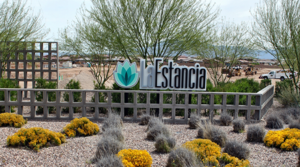 TUCSON, ARIZONA — La Estancia, a 556-acre master planned community, is widely recognized as one of Tucson's best performing large communities. The project capped off an extremely successful 2021 with two large year-end deals. HSL La Estancia, LLC (HSL Properties, Omar Mireles, President) purchased 17+ acres at the main entrance to La Estancia at the SEC of Wilmot Road and Camino Boleadoras. This parcel will be planned for future multifamily housing. AMH La Estancia Development TRS, LLC dba American Homes 4 Rent (Shawn Chlarson, Tucson Director of Land Acquisition) purchased 298-lots along Camino Boleadoras just east of the main entrance along Wilmot Road. The seller in both transactions was the developer, Sunbelt Holdings.
With these year-end transactions at La Estancia, Sunbelt Holdings sold a total of 840 single-family lots and land for an additional 300+ units for future multifamily housing. 2021 was a record setting year for the master plan. La Estancia offers a distinctive community lifestyle and diverse range of residential living options in this prime southeast submarket. Centrally located off I-10 and Wilmot Road and nearby some of Tucson's most prominent employment centers including Raytheon Missile Systems, Davis Monthan Air Force Base, U of A Tech Park and the Tucson International Airport, residents benefit from community amenities including a pool, splash pad, shaded ramadas and play equipment, completed and ready for use. This new phase will continue to advance development south of Camino Boleadoras.
"These latest transactions with HSL Properties and AMH are a great complimentary series of product lines that we are excited to offer," said Greg Mohl, Vice President of Sunbelt Holdings. "We are happy to welcome them to the community. La Estancia offers the consumer a large range of housing products and we are very pleased with the success of La Estancia in 2021 and thankful to our builder partners in this project."
The transactions were handled by Will White and John Carroll of Land Advisors Organization.
Will White of Land Advisors-Tucson commented, "La Estancia had a record setting 2021. The master-plan has been sought after by all of Tucson's builders year after year. I just wish we had another La Estancia in this area. The project was developed in the right place at the right time and is irreplaceable on many fronts. We are thrilled for all involved and happy to play a role in these latest deals."
For more information, White and Carroll should be reached at 520.514.7454.
To learn more, see RED Comp #9528 and #9533.