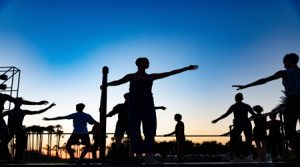 GOODYEAR, Ariz. (Sept. 20, 2023) – The Estrella Lakeside Amphitheater and The Golf Club of Estrella are the places to be in the West Valley on Friday, Sept. 29.
In the morning, the Nicklaus Design course in the shadow of the Sierra Estrella Mountain range foothills will play host to the 2023 WESTMARC Golf Classic. The beginning at 7 p.m., just as the sun is setting, Ballet Arizona's annual Ballet Under the Stars performances, presented by the Diane and Bruce Halle Foundation, will grace the Lakeside Amphitheater.
Free and open to the public, Ballet Under the Stars is the perfect show for the entire family and a great way to introduce ballet to young people for the first time. These performances promise an evening of fun suitable for all ages. Guests are invited to bring chairs, blankets, and picnics to experience the beauty of dance at the Lakeside Amphitheater, 10300 Estrella Parkway.
The evening features a fully-staged live performance by the professional company dancers of Ballet Arizona, including Juan Gabriel's "Se Me Olvidó Otra Vez" and George Balanchine's The Four Temperaments.
Ballet Under the Stars also showcases world premiere performances choreographed by local school students through the Class Act program. Each year, Ballet Arizona's professional dancers provide a three-week dance training class for students in four different elementary schools across the Valley. Estrella Mountain Elementary School dance students will perform.
"We're thrilled that two of Estrella's signature amenities will be in the spotlight," said Jeff Zimmerman, Director of Entitlements & Development for Estrella. "We're also honored that these fantastic organizations, WESTMARC and Ballet Arizona, are bringing two of their signature events to Estrella. It's going to be a great morning and evening."
A sold-out field will hit the links at The Golf Club of Estrella at 8 a.m. A Nicklaus Design golf course and Troon managed facility, the golf club is located just 30 minutes from downtown Phoenix.
Designed primarily by Jack Nicklaus II, the course flows along the contours of the land, allowing washes and hillsides to remain in a pristine state. Large greens and split-level fairways test a golfer's decision-making and club selection. Golf Club of Estrella is consistently ranked by Golfweek magazine as one of the Top-20 Public Courses in Arizona.