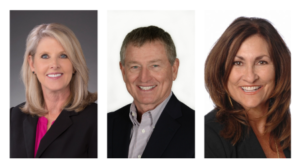 Laurie Sandau joins Michael Brinkley and Michele Pino to bring comprehensive advisory services with data-driven analytics to the healthcare industry in Arizona.
SCOTTSDALE, ARIZ.  – Land Advisors Organization's Metro Phoenix office announces the formation of its Healthcare Strategy Team to focus on advising and guiding the healthcare industry in Arizona through every stage of its real estate decisions.
The team is comprised of industry veterans Laurie Sandau, who is new to Land Advisors Organization, Michael Brinkley and Michele Pino. Each member of the team brings a distinct skill set, allowing them to offer clients the most robust and comprehensive services through data-driven land and economic metrics and deep industry knowledge.
Sandau, a recognized leader in the local community, brings more than 16 years of real estate experience, first in the title industry and subsequently working in medical office leasing and sales. She joins Brinkley,  who has a 30+ year history of successfully managing strategic hospital corporate real estate planning and development  throughout Metro Phoenix; and Pino, who formerly headed business development for the State of Arizona, has more than 16 years of experience in real estate acquisition and strategic site selection focusing on medical land and senior living.
"The initiative to build a team of experts to serve Arizona's burgeoning healthcare industry has been in the works for a while," said Greg Vogel, founder and CEO of Land Advisors Organization. "Bringing Laurie Sandau on board to team up with Michael and Michele has allowed us to create a team that, coupled with our exclusive technology, has the expertise to provide the healthcare industry with a full-service approach to their growth strategies like never before.
"We're very pleased to be able to assist the industry, during this time of great need, as they work to meet our community's growing healthcare needs today and into the future," Vogel said.
Land Advisors Organization's Healthcare Strategy Team offers data-driven advisory services to healthcare users, developers, municipalities and investors to best ensure that growth plans are timely and geographically strategic.  The team's services include front-end consulting strategies that analyze and report on healthcare infrastructure needs, site selection and development opportunities, full-spectrum leasing services, and sales.
The team has been involved with many significant healthcare projects, including the recent land strategy for Valleywise Health's new multi-clinic expansion.