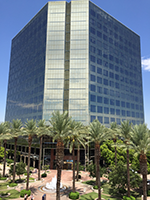 Cushman & Wakefield Completes Sale to Southern California-based Investor
PHOENIX, Arizona – Barker Pacific Group (BPG) of Los Angeles, Calif., paid $23 million to purchase Mesa Financial Plaza from Mesa Financial Plaza LLC, an entity formed by Scottsdale-based Emrine LLC and PV Management LLC. The deal was brokered by Palmer Capital Inc. of Roseville, Calif. and Matt Nebeker of Cushman & Wakefield in Phoenix.
Located at 1201 Alma Road, the landmark office tower, Mesa Financial Plaza is a 16-story, Class A office building located in the heart of the Fiesta District in Mesa, Arizona. The neon-trimmed, 311,132-square-foot office at the southeast corner of Southern Avenue and Alma School Road, is currently 66% occupied.
"Barker Pacific Group is the perfect partner for this building.  They have been actively buying value add properties and will be able to accommodate all the new activity in the area.  The new finishes combined with the cooperation of the city will stabilize the submarket," said Matt Nebeker.
Back in 2007, at the peak of the market, Mesa Financial Plaza was sold for $57.75 million. The current investor, Barker Pacific Group, acquired the property for 40 percent of the sale price the building traded for 10 years ago. As the first office investment in Metro Phoenix for Barker Pacific Group in more than 10 years, the investor plans to upgrade the lobbies and develop spec office suites within the tower.
"Mesa Financial Plaza is an attractive property, and we have plans to bring it further up-to-date with extensive renovations." says Michael Barker, Managing Director and CEO of BPG. "It is an important landmark for the area, and our team looks forward to improving it for both current and future tenants."
With the help of Palmer Capital, the BPG team secured debt financing from NXT Capital, a Chicago-based lender. Heading the leasing for the building is Matt Nebeker of Cushman & Wakefield.
BPG is implementing plans to increase the building's occupancy and upgrade common areas, which include major renovations to the lobby and corridors. Additionally, updated monument signage and lighting will be added to further enhance the building's prominence on the skyline.
The acquisition of Mesa Financial Plaza is BPG's first dive into the Mesa market, which has been improving after the economic downturn several years ago.
"It's exciting to go into a developing market that has been showing signs of improvement," says Barker. "Mesa Financial Plaza is an icon of the area, and we're excited at the opportunity we have to add value to the project and the Mesa market as a whole."