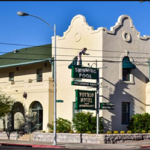 TUCSON, Arizona — A Denver investor, LeMonds Holding (Dale LeMonds, manager) purchased the venerable Willard Hotel – Office Building at the corner of Twelfth Street and Sixth Avenue, 145 S 6th Avenue in Tucson, for $1.9 million ($158 PSF).
Designed by architect Henry Trost, the Willard Hotel opened its doors in 1903. From the arched porch and balcony, winter visitors could observe the busy 6th Avenue streetscape while basking in the sun or relaxing in the shade.
According to the Tombstone Epitaph, dated March 23, 1902, Alex Casey contracted to McMillen and Southworth to construct the 30-room Willard Hotel for $15,750. The construction was pushed to be done rapidly, and in order to complete by summer 1903 pressed brick was used instead of the original proposed design for plain brick plastered. It goes on to say Mr. Casey even traveled all the way to Los Angeles to purchase a fountain to be installed on the courtyard patio, and planned to spend an additional $1,500 to $2,000 on improving the grounds around and in front of the hotel.
Casey then "leased" the building out to Willard Wright and Charles Fleming who in turn used the name "Willard Hotel".
It was one of many hotels constructed at the time to meet the needs of Tucson's growing tourist industry. The Willard Hotel continued to serve the needs of travelling guests until WWII when more than half its rooms were converted into apartments. During this renovation, the ornate Mission-style parapets were removed in an attempt to streamline and modernize the hotel's exterior.
Today the former hotel is home to several law firms and other offices.
Willard Partners' (Michael Piccarreta, manager) was the seller, that renovated the building into the current law offices of Piccarreta Davis Keenan Fidel as a labor of love that began in the fall of 1991 and completed in the spring of 1993.
The building received a "Letter of Recognition" from the Historical Commission for the City of Tucson in 1994.  And in 1995, the building received the Governor's Award for historic preservation.
The landmark iconic sign was manufactured in two phases with "Pueblo Hotel and Apartments" initially. The swimming pool text, and lady diver were added in 1955 when the swimming pool was installed. The diving beauty has been poised on her diving board for all these decades. Both sections were designed and fabricated by the Acme Neon Company, active in Tucson from 1929 through 1966.
In 2012, the building sign received a Historic Landmark Sign designation from the City of Tucson when the whimsical sign was restored by Cook & Co. Signmakers.
Buzz Isaacson of CBRE in Tucson handled the sale transaction and can be reached at 520.323.5151, for more information.
To learn more, see RED Comp #4970 and RED Listing Registry for more properties available.
Additional information on the fascinating history of this building, complete with gun fights and other drama, can be found here