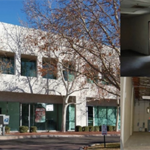 Larsen Baker of Tucson (George Larsen and Don Baker, members) has acquired the industrial flex office building at 4755 – 4775 S Butterfield Drive in Tucson for $7.4 million ($77 PSF).
The 93,913-square-foot building (built 1986) is located on 7.6 acres in the Class A industrial park, Butterfield Business Center.
A call center for Sears occupies 73 percent of the building, or about 70,000-square-feet. Other tenants include a QuikTrip office, and CSL Plasma. There was 5,500-square-feet available for lease at time of sale.
Mark Palmer with Palmer Capital represented the seller, FAEC fbo 3430 Sunrise, LLC of Tucson (Eddy Chernecki, manager) and Andy Seleznov, CCIM, and Melissa Lal, CCIM, represent Larsen Baker in the sale and leasing of the property.
To learn more Palmer can be reached at 916.462.6205 and Seleznov and Lal can be contacted at 520.296.0200.
For additional information see RED Comp #3261.