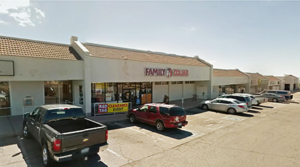 Bisbee, AZ – Tucson-based developer, Larsen Baker, LLC has acquired Valley Vista Plaza and renamed it Bisbee Plaza. The company plans a complete major remodel of the shopping center to attract more tenants.
The ±45,000-square-foot property is located at 101 S. Naco Highway, on the southeast corner of Naco Highway and Interstate 92. Tenants include Family Dollar, PizzaRama, Chinaland, H&R Block, and American SW Credit Union. Safeway is also located in the shopping center.
"We really liked this investment opportunity in Bisbee. Bisbee Plaza is a well-located property with easy access to Bisbee and its surrounding communities. We will be modernizing the shopping center in the next couple of months," says George Larsen, Larsen Baker's founder. "We are excited to become a part of the historic Bisbee community. We saw an opportunity to invest in a local "needs based" shopping center in the Bisbee trade area. The modernization of Bisbee Plaza will positively impact the existing businesses our shopping center and attract other stores and companies looking to do business in Bisbee."
For more information, Larsen Baker should be contacted at 520.296.0200.