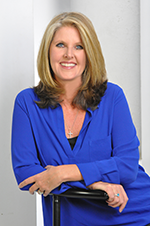 GPE Commercial Advisors is pleased to welcome Laurie Sandau, Associate Vice President as the newest member of our brokerage team. Laurie brings over 11 years of local and national commercial real estate experience with Lawyers Title NCS, using her many talents to help substantially grow their market share. Her expertise in marketing and business development combined with her knowledge of the title and escrow process brings a fresh perspective to the brokerage.
Laurie's previous experience working with real estate transactions gives her a unique understanding of all elements involved in successful closings. Her significant practice in facilitating complex escrows and coordinating lenders, attorneys, and buyers/sellers, will certainly benefit her capabilities as a broker. Laurie's extensive network covering all aspects of the industry will also prove to be a tremendous benefit to her clients.
Laurie will focus on Investments, Office, Medical Office Sales & Leasing as well as Tenant Representation. She will also team on a number of projects with Julie A. Johnson, Alexandra Loye and Bret Isbell. Please join us in welcoming her to our team.
Sandau can be reached at 480.423.4904 or lsandau@gpe1.com