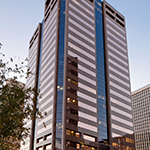 PHOENIX, AZ – Hines, the international real estate firm, recently completed a 60,000-square-foot long-term lease for Jones, Skelton & Hochuli at its downtown Renaissance Square.
The Phoenix-based firm with 80 attorneys and 125 support staff will be relocating from mid-town Phoenix to the new downtown Phoenix location. The law firm specializes in trial practice, insurance law, personal injury defense, commercial litigation, defense of corporations, self-insured professionals, governmental entities, insurance companies and medical malpractice carriers.
Managing Partner at Jones, Skelton & Hochuli William D. Holm said, "Moving to Renaissance Square provides Jones, Skelton & Hochuli with greater access to the courts, and enables us to participate in the energy and vitality in downtown Phoenix."
Jones, Skelton & Hochuli is leasing floors 24 – 27 with a balcony reception area on the 27th floor.
Other major tenants at Renaissance Square include Bryan Cave, Ernst & Young, Gammage and Burnham, Quarles & Brady and The Greater Phoenix Economic Council. Renaissance Square is a set of twin downtown buildings located on a full-city block at 2 N. Central Ave. and 40 N. Central Ave.
Property Manager of Renaissance Square Steve Hamel said, "Jones, Skelton & Hochuli is a high-quality tenant that will serve as a dynamic addition to Renaissance Square's mix of business and community leaders."
Chuck Nixon with CBRE represented the law firm and Pat Devine of Cushman & Wakefield represented Hines in the transaction.