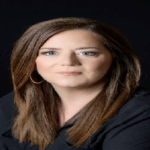 TUCSON, Ariz. – Carol Stewart, Associate Vice President of Tech Parks Arizona for the University of Arizona, has been appointed a seat on the Desert Angels Board of Directors. Desert Angels™ is a Tucson-based private investors group formed in 2000 and has since then grown to become one of the country's leading angel investor groups and most active in the nation. The non-profit organization of accredited investors seeks opportunities to invest in startup or early stage companies based in the Southwest region.
The organization has over 105 members, many of whom have invested in a significant portfolio of companies. They have helped financially support 100+ companies which are screened and selected to present business pitches.  On average, the board reviews over 300 applications per year.  In addition to screening and investing in companies, members hear from nationally recognized speakers including successful entrepreneurs, venture capitalists and thought leaders in the angel investment community.
"I am thrilled to join the board at such a pivotal time. Innovation is what will rebuild our economy. I have been exposed to many different innovation hubs throughout the years, and was part of the pioneers that built the entrepreneurial ecosystem from the ground up in Waterloo, Canada. I plan to take the best practices developed in the community to ignite and foster the innovation boom we experienced in Waterloo and apply it to Tucson's innovation horizon," shared Carol Stewart, Associate Vice President of Tech Parks Arizona. 
Stewart's expertise in university research parks spans decades and nations.  She was instrumental in enhancing the entrepreneurial culture of Canada through the Canadian Industrial Innovation Centre (CIIC) and the globally awarded Waterloo Accelerator Centre. With more than 20 years of experience working with research parks, technology commercialization, business incubation, university-based economic development, governmental relations and business development, she brings a proven track record of excellence to all her endeavors.
Carol Stewart, a long-standing authority on research parks, currently advances the University of Arizona's Tech Parks.  Mrs. Stewart leads the UA Tech Park at Rita Road, and is developing the UA Tech Park at The Bridges. She also serves as President of the University of Arizona Center for Innovation, a business incubator network with outposts across southern Arizona.
"Carol makes a great addition with her passion to see startups succeed as well as her international perspective on how to make that happen. I very much look forward to working with Carol as we take Desert Angels onward and upward to the next level of success which benefits both the entrepreneur and our members," stated Jeffrey S. Lang, Chairman of the Board for Desert Angels.