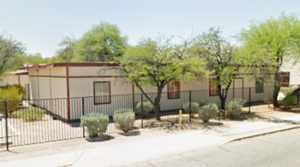 TUCSON, ARIZONA – Leman Academy of Excellence has acquired a new site at 6180-6190 E Pima Street in Tucson for a new campus.  The 4.5 acres were split off and sold by the International Church of the Foursquare Gospel Church from a current 8-acre parcel. The Church will remain on the remaining adjacent property.
The site sold with several buildings, a 16,000-square-foot gymnasium and two buildings under 3,000-square-feet each, that were being used by the church. These will be incorporated into the new 30-classroom building for Leman Academy and its K-6 campus.
The property commanded a sale price of $2.2 million ($100 PSF). This will be eighth campus for the charter school, expected to be open for August 2020.
Leman Academy of Excellence is an independently operated, tuition-free public charter school with open-admission policies. The foundational principles for the educational philosophy of Leman Academy of Excellence has been formed and established by Dr. Kevin Leman, the founder of the school, who had often dreamed of launching a school and learning environment for young people that willingly engages and embraces parents in the educational process, highlighting the parent-teacher-scholar relationship to bring out the best in each and every child. There is no entrance exam for admission to Leman Academy.
Pat Welchert of Alpha Commercial Real Estate represented the buyer in the transaction and Chuck Corriere of Keller Williams of Southern Arizona represented the seller.
For more information, Welchert should be contacted at 520.360.9394 and Corriere can be reached at 520.400.9811.
To learn more, see RED Comp #6990.