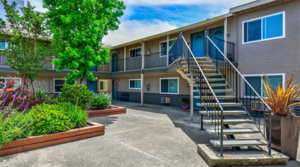 ALAMEDA COUNTY, CALIFORNIA, A TOP DESTINATION FOR RELOCATION FROM BAY AREA CITIES  
The community offers investors a strong cash-flowing asset in a highly popular location and offers residents the best of both worlds with a mix of city and suburban life
CASTRO VALLEY, Calif. – Levin Johnston of Marcus and Millichap, one of the top multifamily brokerage teams in the U.S. specializing in wealth management through commercial real estate investments, announces its most recent multifamily transaction: the sale of Mosaic Apartments, a 62-unit apartment community located in Castro Valley, an unincorporated community located in Alameda County, California, about 27 miles southeast of San Francisco and 30 miles northwest of San Jose.
Levin Johnston's Executive Managing Director Adam Levin represented the seller and procured the buyer in the transaction.
"By utilizing our deep industry and market knowledge, we were able to quickly identify and communicate the long-term value of Mosaic Apartments based on the strength of the property and the benefits of its location," said Levin. "Our team has extensive experience in being ahead of the curve and recognizing the potential of often overlooked areas such as Castro Valley."
According to a report from the U.S. Postal Service, change-of-address submissions show that San Francisco residents who are migrating from the city are not leaving California, or even the Bay Area. Rather, a significant number of residents are instead opting for a parallel shift in work and housing, choosing to leave the city in favor of Bay Area suburbs. In fact, the top six destinations for those leaving the city were all Bay Area counties, with Alameda County ranking high up on the list.
"While we have heard numerous stories of a mass migration away from San Francisco, and in turn the Bay Area, we are now seeing data confirming that residents aren't leaving the area and are instead relocating within the Bay Area," explains Levin. "Alameda County is a top destination for those looking to leave the hustle and bustle of the city, while still enjoying proximity to major employers, great weather, a scenic environment, and an abundance of recreation and entertainment offerings. Mosaic Apartments is a great middle ground for those looking to experience tranquility while still being close enough to reap the benefits of city life."
Mosaic Apartments is comfortably situated between three primary employment markets: Oakland, San Francisco, and San Jose, making it an ideal location for anyone who works in those markets, Levin points out.
"The investment appeal of this property is driven by the influx of residents from the city and by its proximity to many of the nation's top technology employers such as Google, Facebook, Apple, Salesforce, Visa, and Sony, among many others," notes Levin. "Much of the migration into Alameda County from the city is aided by more flexible remote work and hybrid schedules that give employees greater freedom to relocate. Alameda County offers residents the safety and convenience of being close enough to commute if they return to office or to accommodate a hybrid work schedule, as well as the ability to enjoy a quieter and more suburban lifestyle."
Situated on 2.92 acres parcel of land, Mosaic Apartments was originally constructed in 1961 and has a gross building area of approximately 46,540 square feet. The community offers its tenants beautifully designed one-bedroom, two-bedroom and three-bedroom floorplans, with each unit featuring a patio or balcony, vast closet, and contemporary ceiling fans and fixtures.
Mosaic Apartments is situated near Castro Valley Shopping Center, which features numerous recognizable retailers, restaurants, and entertainment options. The property offers community amenities including barbeque and picnic areas, covered parking, a pet park, laundry rooms, and an outdoor Wi-Fi lounge.
The apartment community is located at 19972 Stanton Avenue, Castro Valley, California.
For more information about Levin Johnston's $100 million in available properties, visit www.levinjohnston.com.