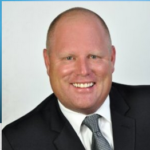 Scottsdale-based CRE firm starts 2017 off strong with a focus on expansion 
SCOTTSDALE, Ariz. - LevRose Commercial Real Estate recently hired commercial real estate Costar veteran Mike Baumgardner as its sales director.
Baumgardner began his career in 2003 with Costar and became well known in the Arizona commercial real estate industry and later the western region. After being named Top Performer for Costar in 2011, he went on to earn several President's Club awards, the highest recognition for a sales member. Baumgardner eventually became the regional director of sales for Costar operations in Arizona, New Mexico and Utah, managing both Costar and Apartments.com sales teams. He continuously helped cultivate relationships with existing clients while consistently providing new business opportunities. Baumgardner earned a Bachelor of Science degree in International Business from Western Michigan University.
"It's an honor to work with a firm that has truly grown with the Greater Phoenix and Scottsdale markets and takes the time with their clients, beyond the deal," Baumgardner said. "I look forward to expanding my knowledge and experience with LevRose and starting a new journey here in the Valley."
As the Sales Director for Levrose, Baumgardner will assist in the growth of each of his team members, while helping to ensure their clients' expectations are consistently exceeded. His main focus will be on the expansion of CRE sectors including office, industrial, retail and multifamily real estate, for both leasing and sales.
"We are very lucky to welcome Mike to our growing team and excited to expand in 2017," said Jon Rosenberg, co-founder and managing partner LevRose. "As growth in the Valley has continued to increase over the years, adding an experienced team leader, such as Mike, will help grow our current teams. We have no doubt that Mike will greatly influence the future growth and success for not only our company but for our clients as well."
For more information, Mike can be reached at 480.947.0600.