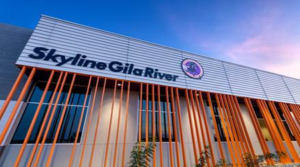 Chandler Charter Combines Clean, Linear Look with School Spirit
PHOENIX, Arizona – LGE Design Build has completed construction on Skyline Education's newest facility, Skyline Gila River, located at 255 E. Riggs Rd., Chandler.
Skyline Gila River is a 5-12 nonprofit charter school serving 100% Native American students from the Gila River Indian Reservation. Built with the nonprofit charter school's unique needs in mind, the 36,000 square-foot building on a 239,000 square-foot lot includes state-of-the-art classrooms, a specialty dance room, science lab rooms, a performance stage, weight room, gymnasium, multipurpose cafeteria and a sports field. The school was designed with a clean, linear aesthetic mixed with tasteful orange-and-purple accents to showcase the school's official colors.
Additional design elements include architectural masonry, standing-metal seamed panel projection, and projecting steel plates to add visual interest to each classroom.
Skyline Gila River wanted to create a seamless connection between the middle school, high school and extracurricular areas, but also have each have their own feel. LGE Design Build executed that vision on time and on budget.
"LGE has a great design build process to help you visualize your dream and seamlessly bring it to reality," said Swen Anderson, President of Skyline Education. "We appreciate LGE's commitment to excellence and its customer service with its clients."
The design build team for Skyline Gila River included architect LGE Design Group, lead designer Mike Russo of LGE Design Group, general contractor LGE Design Build, construction project manager Brian Lewis, civil engineer Hunter Engineering, structural engineer Paul Koehler Structural Engineer, M/P engineer Mechanical Designs, Inc., electrical engineer Woo Engineering, Inc. and landscape architect Laskin and Associates.
To learn more Skyline Education, visit www.skylineschools.com. To learn more about how LGE Design Build is continuing to evolve, visit www.lgedesignbuild.com.