Part of Entertainment District Revitalization
SCOTTSDALE, AZ– LGE Design Build has completed the remodel of El Hefe Scottsdale, a 3,800-square-foot taco restaurant, bar and DJ venue in the entertainment district of Scottsdale near several other recently renovated/constructed restaurant, bars and nightclubs.
The remodel enhances El Hefe's hybrid concept of a restaurant with nightlife, a trend the taco shop innovated when it opened in Old Town Scottsdale in 2008.
During the last two years in Old Town Scottsdale, LGE Design Build and AV3 Design of Phoenix have worked together on the renovation/construction of several other restaurants, bars and clubs within walking distance of El Hefe, located at 4425 N. Saddlebag Trail, such as Maya Day + Nightclub, Livewire, Bottled Blonde, Hi Fi and the Mint.
"Downtown Scottsdale is evolving in a positive and responsive manner, and renovations like this serve to enhance our reputation as one of Arizona's most livable urban cores," said Scottsdale Mayor W. J. "Jim" Lane.
El Hefe's remodel added about 35 percent more restaurant seating, created a central bar and installed a 70-foot front canopy creating a promenade effect and drawing energy from the street to the open-air patios. In addition, El Hefe incorporated new technology with a 90-foot HD one-of-a-kind projection wall to show sports games and moving graphics. Lights on two walls transform the comfortable restaurant into a nightclub atmosphere.
"Our remodel of El Hefe fuels new energy and connectivity into Old Town Scottsdale," said Dave Sellers, LGE Design Build's president. "People wanting to enjoy Old Town's nightlife can now walk from venue to venue experiencing updated bars, restaurants and clubs."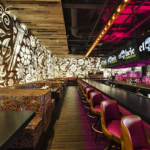 Recently reopening, El Hefe's business has already been bolstered from the renovation, said Ryan Hibbert, CEO of Riot Hospitality Group, owner of El Hefe.
El Hefe was successful with strong sales when the owners decided to renovate the 2008 building. Previously, the space was disjointed into two separate bar areas and the DJ wasn't a focal point.
The remodel at El Hefe Scottsdale has integrated the highest levels of technology along with the most beautiful finishes possible," Hibbert said. "Our brand El Hefe has reached a higher level of success than any of us had ever hoped with such an incredible build out."
The renovation promotes the El Hefe brand's Day of the Dead festive atmosphere and keeps its pink accent lights, black steel, reclaimed wood and black granite.
"We designed El Hefe to be a 'people showcase' with a seamless interior and exterior," said Artie Vigil, architect and urban designer with AV3 Design. "We created transparency between the restaurant and street, building energy and vibrancy that spills out into the entertainment district. El Hefe is an establishment to see people, enjoy life and eat great food."
Known for its tacos, El Hefe Scottsdale won the Scottsdale Culinary Festival's 2014 Best Overall Food.
Vigil also has designed El Hefe Tempe and El Hefe Chicago, also owned by Riot Hospitality.
Riot Hospitality is working with LGE Design Build on renovating an existing bar/restaurant in Tempe for Dierks Bentley's Whiskey Row, located next to El Hefe Tempe. Riot Hospitality expects to open the 7,300-square-foot country bar in August or September.
Riot also is working with LGE Design Build to gut and remodel the former Stingray Sushi location on Scottsdale Road into Riot Hospitality's new fresh food concept, called Farm and Craft, which will serve only local food and beer. Farm and Craft is expected to open in the 2,500-square-foot building in September.