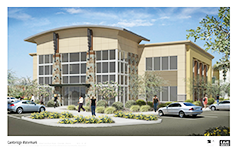 PHOENIX, AZ – LGE Design Build has started construction on a 12,939-square-foot, two-story office building at the Cambridge Watermark office plaza in Chandler to respond to growing demand for office properties.
Eric Pyles, who owns a nearby 34,000-square-foot office building, has hired LGE Design Build to construct a companion office building located at 2450 S. Gilbert Road in Chandler to accommodate demand near the Chandler Airpark and Loop 202. The site also has an existing retail center.
"We are developing the building with high-end finishes such as stone veneer to appeal to businesses in this growing area of Chandler," said David Sellers, president of LGE Design Build.
The new building, expected to be completed in April, has two 6,500-square-foot office spaces marketed to professionals such as attorneys, architects and CPAs.
"The new building features a two-story lobby that complements the architectural features of the current office building such as a curved standing seam roof, stone columns and special steel ornamentation," said Paul Devers, principal with Cawley Architects in Phoenix. "The idea was to create a petite jewel box office building that would fit comfortably next to the existing larger building."
To learn more LGE Design Build can be called at (480) 966-4001.