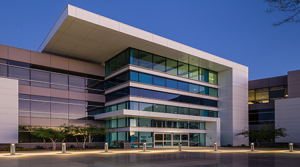 New York buyer expands national suburban office portfolio with $107.6 million acquisition
MESA, Arizona – Following the execution of a strategic development, repositioning and leasing plan, Harvard Investments and Lincoln Property Company (LPC) have sold the Waypoint suburban Class A office campus for $107.6 million to Innovatus Capital Partners LLC (Innovatus), an independent advisor and portfolio management firm headquartered in New York City.
Totaling four buildings and almost one-half-million square feet at the borders of Mesa, Tempe and Scottsdale, Arizona, the project is the highest-priced office sale of the year in metro Phoenix. The seller was represented by Barry Gabel, Chris Marchildon and Will Mast of CBRE.
Waypoint, which sits near the confluence of the Loop 101 and 202 freeways within the highly amenitiezed Riverview District, is 98 percent leased.
"Waypoint was developed with a clear vision in one of the tightest, growing and popular office markets in metro Phoenix," said Bradley Seiden, Managing Director of Innovatus. "The property is a very strong addition to our diversified portfolio of U.S. office properties located in emergent top-tier markets. Waypoint provides an opportunity to leverage our team's operational expertise, provide additional improvements for our tenants and potentially develop another building."
"Waypoint is a fantastic success story, encompassing two ground-up buildings developed by Harvard and Lincoln, and two buildings that we purchased, redeveloped and rebranded to create a cohesive office campus that now employs nearly two thousand," said Harvard Investments President and CEO Craig Krumwiede.
Waypoint is leased to a high-quality list of national and local tenants including Cognizant, Verra Mobility, Mitel, Ashton Woods, Beazer Homes, Nextcare, Udall Shumway and EPS Group. LPC, who has served as the property manager for all four buildings, will maintain the management assignment as part of the firm's almost 10 million-square-foot Phoenix property management portfolio.
"This sale marks the seventh U.S. transaction that Lincoln has completed with Innovatus in just 18 months," said Lincoln Property Company Executive Vice President David Krumwiede. "We have a great history together and appreciate expanding the Innovatus and Lincoln partnership to greater Phoenix. We look forward to continuing our work with Innovatus and driving economic success in their targeted markets."
Harvard and LPC developed the first, 108,956-square-foot building at Waypoint in 2014 as a build-to-suit that was fully pre-leased to Verra Mobility (formerly American Traffic Solutions) before the building was completed. In 2016 the partnership completed a second, 153,134-square-foot building and purchased two adjacent, existing buildings to create the four-building, 426,951-square-foot Waypoint campus, which spans 36 acres in the rapidly growing Riverview District.
Tenants at Waypoint enjoy a high-tech modern aesthetic, multi-story lobbies, creative workspaces, amenity areas and outdoor collaborative spaces. The Harvard/LPC-constructed buildings also offer 14-foot open ceilings and glass windows that begin at floor level and extend 11 feet high.
Waypoint sits adjacent to the mixed-use Riverview District, offering 1.3 million square feet of retail, restaurants, entertainment and the upscale Sheraton and Hyatt Place hotels. Also within Riverview are Riverview Lake and Sloan Park, home of the Chicago Cubs spring training facility. Waypoint is located just six miles east of Phoenix Sky Harbor International Airport and is minutes from Arizona State University's main campus. The location provides convenient access to Loop 101 at Rio Salado Parkway, and the Loop 202 at Dobson and Alma School roads.
Dave Carder and Scott Boardman of Cushman and Wakefield were the property's leasing agents.