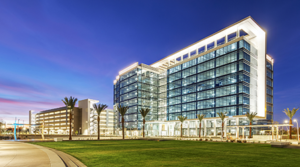 Additional wins include Spec Office Building of the Year and Transaction of the Year
PHOENIX, Arizona – In the same year it celebrates its 20th anniversary, the Desert West region of Lincoln Property Company (LPC) has earned its third consecutive NAIOP Arizona Owner/Developer of the Year award, as announced at the annual Best of NAIOP award event held yesterday in Phoenix.
In addition to Owner/Developer of the Year, the company also earned the Spec Office Project of the Year award for its Class A Union office development in the Mesa Riverview District and the Transaction of the Year award for Grand2 at The Grand at Papago Park Center in Tempe, Arizona.
This is the third consecutive Owner/Developer of the Year award win for LPC Desert West, highlighting the company's achievements in development, ownership and management.
"Phoenix continues to rank at the top of the nation for economic and population growth," said LPC Desert West Senior Executive Vice President David Krumwiede. "That requires buildings that are efficient, comfortable and  expertly designed and amenitized to attract and retain the best talent. We are grateful to be in a position to build and manage these types of transformative buildings, and extend tremendous thanks to our employees, project partners and NAIOP for playing such a substantial role in our success."
In 2020, this included the delivery, lease-up and sale of the 358,800-square-foot Grand2 Class AA office building. The building earned LPC Desert West the NAIOP Arizona Transaction of the Year award, overcoming a pandemic economy with a record-breaking $187.5 million building sale and a full-building lease to leading U.S. on-demand food delivery company DoorDash.
In partnership with Harvard Investments, LPC Desert West also completed Union Building One, which earned this year's NAIOP Arizona Spec Office Building of the Year award. Fronting the Loop 202 at the confluence of Scottsdale, Tempe and Mesa, Union Building One is the first of a four-building, 1.35 million-square-foot office campus in the heart of the Riverview District. The 238,348-square-foot, Class A building has a contemporary lobby peppered with modern art, fronts a lush pedestrian plaza, is surrounded by more than a million square feet of retail and hospitality amenities, and provides modern open concept offices with sweeping views of mountains, city skylines and the adjacent Riverview Lake.
Other 2020 achievements by LPC Desert West include the start of construction at the omnichannel-focused, 321,773-square-foot Buckeye85 industrial building in the heart of the I-10 Corridor, and delivery of the 1.27 million-square-foot, Class A Park303 Phase I industrial building. In addition to the delivery of Park303 Phase I, LPC Desert West has expanded the Park303 creative industrial park to 201 acres supporting up to 4 million square feet, with one full mile of Loop 303 frontage.
This past year, LPC Desert West also embarked on a regional expansion plan, purchasing more than 1 million square feet of Class A industrial space in 12 buildings in Nevada and Utah. Across its region of Arizona, Nevada, Utah and New Mexico, LPC Desert West owns more than 10 million square feet and manages more than 13.5 million square feet of Class A office, industrial and retail space.
For more information on LPC Desert West development, investment and property management services, contact LPC Desert West at 602.912.8888.