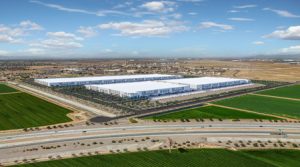 Maricopa County, Luke Air Force Base join kick-off of Class A industrial development
PHOENIX, Oct. 19, 2023 – LPC Desert West, the Southwest arm of Dallas-based Lincoln Property Company (LPC), has joined with Maricopa County Board of Supervisors Chairman Clint Hickman, project partners and VIP guests to celebrate the groundbreaking of Luke Field, a $515 million, 2.4 million-square-foot Class A industrial development located adjacent to Luke Air Force Base in metro Phoenix.
Being developed in a single phase with completion expected in the fourth quarter of 2024, Luke Field spans three buildings – a 695,750-square-foot Building A, 454,761-square-foot Building B and 1.27 million-square-foot Building C. The development is located minutes from the Loop 303, bordered by Litchfield Road, Northern Avenue, the new Northern Parkway and Luke Air Force Base.
LPC named the project after Luke Air Force Base, home to the largest fighter wing in the U.S. Air Force and where the company's Senior Executive Vice President David Krumwiede and Vice President John Orsak have both served as Honorary Commanders.
"We've spent the last two decades perfecting our approach to Class A industrial development to meet the demands of the most modern users," said Krumwiede. "That tradition will continue at Luke Field, with buildings that exceed the expectations of tenants looking for space in one of the nation's most notable industrial locations."

"The Lincoln team brings great pride of place and product to Luke Field," said Hickman. "We're very pleased to celebrate this groundbreaking with them, and look forward to the quality buildings, tenants and employment opportunities that they will bring to Maricopa County."
Buildings at Luke Field will feature 40' clear height, 25' tall glass entries, 3,000 amps of power (expandable), automated dock doors, steel moment frame shear bracing and generous 5' x 10' clerestory windows on all elevations, providing interior spaces with sky views and the benefit of shifting natural light.
All buildings will also have the same high-end "creative industrial" advantages that LPC has become known for, including touchless technology throughout and indoor/outdoor amenities such as barbeque stations, a shaded outdoor eating area and employee collaboration spaces. The development will be supported by extensive car and secure trailer parking.
"Strong relationships and collaboration with both Maricopa County and Luke Air Force Base have moved this project smoothly forward to today's groundbreaking," said Orsak. "We appreciate both of these organizations, and our entire project team, for their commitment to the development of Luke Field."
Lincoln Property Company serves as the leasing agent for Luke Field. Layton Construction is the general contractor. Butler Design Group is the project architect.
Luke Field sits adjacent to Northern Parkway, a 12.5 mile, high-capacity roadway that allows employees and trucks to circumvent traffic on Interstate 10 and provides rapid connection between the Loop 303 and Loop 101/US 60/Grand Avenue. The combination gives logistics-centric users strategic regional transportation connections to freeways and interstates, railways, airports and regional destinations such as the port of Los Angeles and Long Beach.
Corporate neighbors to Luke Field include Walmart, Boeing, Microsoft, White Claw, XPO Logistics, UPS, REI, SubZero, Daimler-Benz, Red Bull, Ball Corporation, Aldi and Williams Sonoma.
To discuss leasing, investment or property management opportunities with Lincoln Property Company in the Desert West region, please call David Krumwiede or John Orsak at (602) 912-8888.