Lincoln Property Company Promotes Two to Vice President, Desert West Region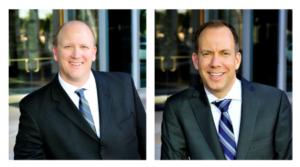 John Orsak, Doug Klocke take on expanded Real Estate and Construction roles
PHOENIX, Arizona – Lincoln Property Company (LPC) has promoted industry veterans John Orsak and Doug Klocke to the position of Vice President, expanding the role of each individual within the LPC Desert West Region of Arizona, Nevada, Utah and New Mexico, and encompassing current LPC development projects such as Lincoln Logistics 40, Union, the 1.8 million-square-foot office portion of The Grand at Papago Park Center and Lincoln Logistics 303.
A 21-year industry veteran and LPC employee since 2005, Klocke becomes Vice President of Development and Construction Management. Since joining LPC, Klocke has developed and constructed nearly 5 million square feet of Class A office and industrial projects. In his new role, he serves as the primary customer contact and manager for all current LPC real estate projects and tenant improvements. This includes construction costs, schedules and quality control from project conception to completion at the company's pipeline of more than 5 million-square-feet of announced or under-construction commercial developments.
As Vice President of Real Estate Development, Orsak is responsible for all LPC leasing, acquisitions, dispositions and property management. This includes an almost 10 million-square-foot property management portfolio, strategic renovations at high-profile projects such as 3131/3133 Camelback and Luhrs City Center, and the ongoing development and leasing at Lincoln Logistics 40, The Grand at Papago Park Center, Lincoln Logistics 303 and Union. Orsak joined LPC in 2016, bringing with him 15 years of real estate experience. Since then, he has been involved with more than 1.5 million square feet of lease executions with a total lease consideration of more than $250 million.
Klocke holds a bachelor's degree in Civil Engineering from Arizona State University, is a LEED Accredited Professional and holds an EIT in Civil Engineering. He is a member of the National Association of Industrial and Office Properties (NAIOP), volunteers with Habitat for Humanity and is a Certified Youth Sports Coach in soccer and baseball.
Orsak holds a bachelor's degree in Business Administration from Sam Houston State University. He sits on the NAIOP Board of Directors and is the founder of Santa's Sak, a non-profit organization that supports state-sponsored group homes and puts Christmas gifts into the hands of needy children.