Lindy's off 4th Opens on Tanque Verde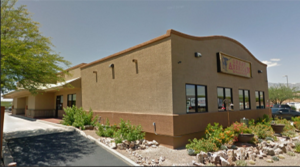 TUCSON, Arizona — Nickel Properties, LLC of El Paso, TX (David Ogle, manager) sold the Great American Steakburger at 8995 East Tanque Verde Road in Tucson for $935,000 ($181 PSF).
The 5,169-square-foot building and 36,242-square-feet of land sold for the newest Lindy's on 4th location. Catcherfly, LLC (Tim and Shannon Cronin, managers) are the owner operators of Lindy's and seller was the same.
Lindy's on 4th first opened its doors in late December 2005. The menu was breakfast, lunch and dinner with more hotdogs than hamburgers. The menu later developed into unique, incredible hamburgers.
On December 9, 2009 Man v Food was filmed at Lindy's, show casing its OMFG Challenge. Lindy's was also featured on Meat and Potatoes, The Travel Channel, and on June 9, 2017 Lindy's aired on Food Network Ginormous Foods for the Burnout Challenge, which has yet to be mastered. The home of many favorite and famous burgers, Lindy's has many Icons of Tucson like the Fat Bastard, Mac n' Cheese, The Kush and Dirty Sanchez.
In April 2017 Lindy's moved across the street to 500 N 4th Avenue, tripling its square footage with 2 patios and a full Bar. Lindy's original spot where it resided for 12 years at 431 N 4th Ave is  called The Old Spot by Lindy and features delicious sandwiches, salads, soups and beers.
In March of 2018 Lindys off 4th opened at 8995 E Tanque Verde at Catalina Hwy, with lots of space for everyone, an outdoor patio and of course a full Bar.
Coming soon to Lindy's family is Lindy's On Wheels!!
Jeramy Price of Volk Company in Tucson represented the seller in the transaction and told us there was a separate transaction for the furniture and fixtures associated with the property.
For more information, Price can be reached at 520.326.3200.
To learn more, see RED Comp #1945, #1765 and #5559.