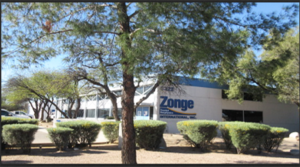 TUCSON, ARIZONA — Live Theatre Workshop (LTW) purchased 8,317-square-feet of industrial space located at 3322 E. Fort Lowell Road in Tucson, from Zonge International, Inc.  The portfolio sale, purchased for $810,000, included two buildings — a 5,145-square-foot office building and a 3,172-square-foot service/warehouse building.
LTW currently leases and operates in space at a retail strip center located at 5317 E Speedway Blvd. in Tucson. The new property on Fort Lowell will be a great enhancement for the Theatre once tenant improvements are complete and ready for move in sometime next year.
Live Theatre Workshop is a unique and special theatre. The local artists, staff, board, and volunteers come together to create performances and theatre education because they love what they do, and because they want to bring the best theatre to Tucson. Tucson deserves a thriving theatre scene that is accessible to all who want to participate is part of their mission.
Producing inclusive, accessible and affordable professional theatre and theatre education that entertains, educates and enlightens children, adults, and families. LTW is a nonprofit 501(c)3 organization supported by grants and generous people who appreciate LTW's Mainstage plays, Family Series shows for kids, Etcetera Late-Night productions, and a year-round Theatre Education Program for youth.
For the full performance schedule go to https://www.livetheatreworkshop.org/.
Performing for the holidays will be Your Song In My Mouth: Holiday Edition
"What do the holiday stories, thoughts, and ideas of Tucson sound like in musical form? Live Theatre Workshop has the answer. The Etcetera program has collected Tucsonans' short holiday themed stories, poems, and random thoughts, and LTW composers David Ragland, Richard Gremel, Carlisle Ellis, and Michael Martinez have created songs inspired by these Tucson writers. Featuring Amanda Gremel, Carlisle Ellis, Richard Gremel, Michael Martinez, and David Ragland as the Your Song in My Mouth Band. Join us for two nights only as we present these original musical creations with Tucson writers as the muse and local musicians and composers as the creators."
Stephen D. Cohen and Russell W. Hall, SIOR, GSCS, Principals and Industrial Specialists with Cushman & Wakefield | PICOR, represented the seller in this transaction. Brenna Lacey, Vice President with Volk Company, represented the buyer.
For more information, Cohen can be reached at 520.546.2750 and Lacey is at 520.495.2233.
To learn more, see RED Comp #7333.