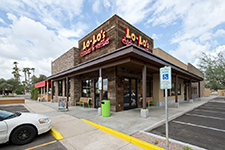 PHOENIX – You will soon be able to toast your friends, family and favorite soul food at the Scottsdale and Gilbert locations of Lo-Lo's Chicken & Waffles, constructed by LGE Design Build.
Lo-Lo's Chicken & Waffles in Scottsdale, 3133 N. Scottsdale Road, recently hosted its grand opening. LGE Design Build constructed the 5,400-square-foot location, just a quarter mile north of its former Scottsdale location. The new restaurant includes a full bar.
"Lo-Lo's Chicken and Waffles has a unique style and feel, which we translated to the new Scottsdale location," said David Sellers, president of LGE Design Build. "It's not like other restaurants; there's a certain vibe at Lo-Lo's that customers come to expect. Our design team worked very hard to capture it and by all indications, we have."
The Lo-Lo's Chicken & Waffles in Gilbert, 366 N. Gilbert Road, is scheduled to open Dec. 1. The 4,300-square-foot property, which represents a tenant improvement project for LGE, is located within the existing new Heritage Marketplace development in downtown Gilbert.
LGE also built the original Lo-Lo's, 1220 S. Central Ave. in Phoenix, in 2002. The Phoenix location has been frequented and endorsed by a variety of athletes and celebrities including Charles Barkley, Snoop Dogg, Mary J. Blige and collection of players from the Arizona Cardinals and other local professional teams.
"We are truly blessed to be where we are today, having built our brand over the last 12 years," said Rasheedah White, one of the owners and founders of Lo-Lo's along with husband Larry White. "We took my husband's vision and turned it into a reality."
Lo-Lo's also has a location at Phoenix Sky Harbor International Airport's Terminal 4. Real estate veterans Mike Anderson and Bret Anderson are among Lo-Lo's partners.
The Gilbert Location at Heritage Marketplace will open December 1.