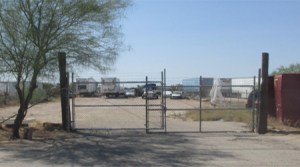 TUCSON, ARIZONA – Campbell Landing, LLC (Keith and Carl Campbell, managers) paid $425,000 ($2.25 PSF) for 4.34 acres at 2636 East Ginter and 2701 East Wieding Roads in Tucson for a new industrial spec project site.
The property was being used for parking trailers when it sold. The developer is planning to build 4-5 industrial buildings, each approximately 10,000-square-feet for lease.
Allan Moore of Chapman Lindsey Commercial Real Estate Services represented the seller, KQ Covenant Investments, LLC in the transaction.
"The sale price was reflective of the market," said Moore. "As it needed all utility services to be brought to the property, adding a considerable cost for developing. But, it's a great location and should be a very successful industrial project, being located as near as it is to the Tucson International Airport. "
The buyer was represented by Dean Cotlow of Cotlow Company who also holds the leasing assignment for the project.
For more information, Moore should be reached at 520.747.4000 ext. 105 and Cotlow can be contacted at 520.881.8180.
To learn more, see RED Comp #8595.