Long Realty Sells Titan II Missile Bunker in Marana for $1.5 Million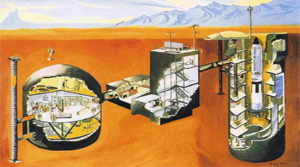 TUCSON, Arizona — What was once one of America's most top secret places is now Acacia Nursery at 8080 West Tangerine Road in Marana. GreyWolfe Investments of Gilbert bought the 10-acre site for $1.5 million ($150,000 per acre). Divided into two parcels, five acres holds Acacia Nursery business and the other a Titan II Missile Bunker, in need of refurbishing.
The entire 10-acres is an island surrounded by Sonoran Desert state trust land and fenced with a private, gated entry, a dramatic reminder of the Cold War between the U.S. and former Soviet Union. The bunker is one of the last remains of 54 Titan II missile sites that were on alert across the United States from 1963 to 1987.
Buried 60 feet underground and encased in four feet of concrete and steel, the bunker was designed to withstand a direct nuclear missile strike! Able to launch from its underground silo in just 58 seconds, the Titan II was capable of delivering a 9-megaton nuclear warhead to targets more than 6300 miles away in about 30 minutes.
The silo became operational in 1963 and was deactivated in 1982 as part of President Reagan's policy of decommissioning the Titan II missiles as part of a weapon systems modernization program. All operational Titan II silos throughout the country were demolished, including 17 sites by Davis-Monthan AFB and Tucson, except the one in Sahuarita / Green Valley area that remains a national museum.
Approximately 6,000-square-feet below ground, the bunker cost $55 million to build in the 1960's.
Rob Lamb with Long Realty Commercial handled the transaction for both the buyer and seller, The Athol Family Farms Trust, and sold the property for full price in about 6 months .
"This was one of my favorite sales," Rob said. "Everyone loved the bunker!" Rob prides himself in selling the unique or hard to sell properties. Plans, if any, for the bunker are as yet unknown.
For additional information, Lamb should be reached at 520.444.4411.
To learn more, see video and RED Comp #4282.