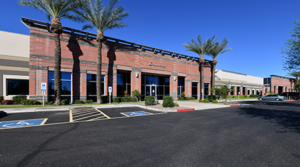 PHOENIX, Arizona – Los Angeles-based BH Properties announced today the purchase of Riverpoint – Building 2, a single-story, multi-tenant flex office building. The property located at 3100 E. Broadway in Phoenix was sold by a Nebraska investor, Vatnsdal Investments, LLC, for $5 million.
Eric Wichterman, Mike Coover, Larry Downey and Brett Thompson of Cushman & Wakefield Phoenix brokered both sides of the deal. Wichterman stated, "With the purchase of this recently vacated flex office building, BH Properties is well-positioned to create tremendous value through leasing the property to a single tenant on a long term lease."
Riverpoint – Building 2, constructed in 2002, offers 61,316-square-feet of available space. Located on the northwest corner of 32nd Street and Broadway Road, just south of Phoenix Sky Harbor International Airport, the property features Broadway Road signage, close proximity to ASU and the airport and easy access to the I-10.
Larry Downey and Brett Thompson will also serve as the exclusive marketing agents for Riverpoint – Building 2. Downey stated, "This is a desirable location with 60,000-square-feet of vacant contiguous space and an abundance of parking space for future tenants."