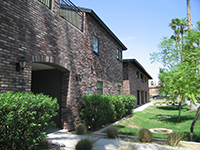 ABI Multifamily, a dedicated multifamily brokerage and advisory services firm, is pleased to announce the $1.65 million sale of Chester Place Lofts, located in Phoenix, AZ. The complete townhome/loft community consists of 11 individually parceled units that were built in 2008 and are currently operating as luxury rentals. The $1.65 million purchase price reflects a price of $150,000 per unit and $145.57 per square foot.
The original developer of the project intended to sell-off the townhome/loft units to individual buyers. However, upon delivery, the condo market pricing could not justify sales and the community has been operated as luxury townhome rentals since completion. The seller, Pathfinder Partners, based out of San Diego, CA, purchased the property from a lender in 2012. Pathfinder Partners held the property all cash and kept the community intact. The buyer, a private individual, based out of Carlsbad, CA, purchased the property to continue operations as luxury rentals.
This sale marks the second complete townhome/condo transaction in two weeks brokered by ABI Multifamily. In early February 2015, ABI Multifamily reported the sale of Dolce Villagio Townhomes, 37 total units, located in Tempe, AZ. Dolce Villagio is also individually parceled, but as with Chester Place Lofts, became luxury rentals upon its delivery in the downtown Tempe area and will also continue to be run as luxury rentals.
Chester Place Lofts is a fully gated, a two-story townhome/loft community, which wraps around a centrally located large pool area. The property is constructed of brick and stucco. All 11-units are highly appointed with loft-style upgrades. The upgrades include cherry wood cabinetry, granite countertops, polished stained concrete and/or hardwood flooring, in unit washers/dryers and an exterior individual oversized garage for each unit. Units at Chester Place average over 1,000-square-feet and each includes 3 patios.
The property is located in the highly desirable Roosevelt Row Arts District. This area sits within the City of Phoenix Urban Form Project and Downtown Code that forces new development to design with the intention of promoting pedestrian-friendly and architecturally appealing streets in order to remain desirable and continue to prioritize improvement of the area. Chester Place is within walking distance to the Roosevelt and Central Phoenix Light Rail Stop, allowing residents easy access to the rest of the valley. In addition, Arizona State University's Downtown Campus and the University of Arizona's College of Medicine are within walking distance from the property. Entertainment attractions nearby include the Orpheum Theatre, Phoenix Art Museum, Heard Museum, Herberger Theater Center, Phoenix Convention Center, Arizona Science Center, Chase Field and US Airways Center.
The Phoenix based ABI Multifamily brokerage team of John Kobierowski, Alon Shnitzer, Rue Bax, Doug Lazovick, Eddie Chang, Terry Kass and Mark Skelpsa facilitated the transaction.
To learn more Kobierowske should be called at 602.714.1384, Shnitzer is at 602.714.1283, Bax can be reached at 602.714.1406, while Lazovick can be contacted at 602.714.1388, Chang is at 602.714.1398, Kass at 602.635.7431 and Skelpsa should be called at 602.635.4655.