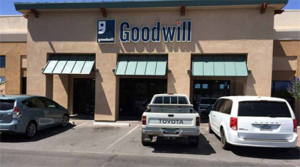 SAHUARITA, ARIZONA – WG Sahuarita Holdings, LLC an affiliate of Whirlygig Properties of Tucson (Lynn Taylor and Barry Kitay, principals) sold an outpad fully leased in the Walmart Center, 718 W Calle Arroyo Sur in Sahuarita. The buyer, Ace Properties #5, LLC of Tucson (Michael Adams, manager) was in a 1031 exchange when purchasing the property.
The outparcel commanded a sale price of $4.254 million ($250.68 PSF).
Whirlygig was developer and builder for the Madera Marketplace outparcel. The 16,970-square-feet of retail space on a 2.9 acre outparcel at Madera Marketplace was built to suit by Whirlygig for two tenants, Rubs Massage Studio. And Goodwill of Southern Arizona in 2013.
Whirlygig is the exclusive representative for Goodwill Industries of Southern Arizona and occupies 14,400-square-feet in the building. The other tenant, Rubs Massage Studio, a Tucson-based business since 2004, occupies 2,500-square-feet. This is Rubs sixth location in the Tucson region, plus two Spa Soleils, and its latest location in Chander, Arizona.
Madera Marketplace is immediately east of the full diamond interchange at Interstate 19 that connects the Sahuarita trade area with Tucson and Nogales, it is anchored by such tenants as Super Walmart, Walgreens, Wells Fargo, Bank of America and Carl's Jr. and across the street from a new Sprouts.
For more information, Taylor can be reached at 520.546.9003. To contact Goodwill call 520. 623.5174 or Rubs at 520.887.8866.
To learn more, see RED Comp #6035.