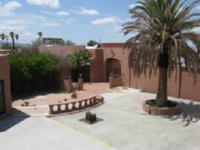 Maker House, a new artisan-driven makerspace opening this fall in the Historic Bates Mansion in Tucson, has partnered with Yellow Brick Coffee to make them the official, exclusive roaster of Maker House. "I'm a maker myself, and makers drink a lot of coffee as a general rule," jokes Vanessa Ford, Executive Director of Maker House. "We want to give our artisan makers artisan coffee, and Anna and Yellow Brick Coffee are the perfect partners for us."
Yellow Brick Coffee was founded in New York in 2011, and has expanded nationally to include a roasting facility in Tucson, AZ. Master Roaster Anna Perreira, the owner of Yellow Brick Coffee, is currently the only roaster in the US distributing coffee from Mi Tazita from 2013's crop.
Nestled in the mountains of Honduras is Mi Tazita, a small family-owned farm producing amazing award winning coffee primarily for the domestic market. Because a recent earthquake knocked out their bridge, getting to the farm itself involves driving through a stream. Getting the coffee beans out requires mule trains walking winding mountain paths too narrow for vehicles to maneuver.
When the coffee reaches Anna, she builds a custom roast profile for each year's crop. Anna roasts in very small batches, monitoring each 5 lb. roast for the perfect roast profile that yields amazing flavors of vanilla, caramel, milk chocolate, honey, butter and grapefruit.
Mi Tazita has won numerous awards locally for their coffee. Even so, prior to Yellow Brick Coffee's purchase of Mi Tazita coffee, it had never been available in the US. Perreira states "This is the second year we have purchased from Mi Tazita, since our initial visit in January 2011. We are extremely proud of this continued relationship. I feel honored to be able to support the farm and highlight the quality that they produce year over year."
Maker House is currently offering the ability to purchase this rare coffee through their crowdfunding campaign, to raise funds for the equipment and furniture needed to outfit the makerspace.
People who support Maker House at the $35 "Coffee Fanatic" level, will receive a custom Maker House Mug and ¼ lb of the fresh 2013 crop in mid-September. To donate to the Maker House campaign and get this rare coffee, visit
https://www.rockethub.com/projects/29842-support-maker-house-the-world-s-first-artisan-driven-makerspace