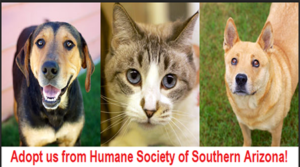 TUCSON, Arizona – On Tuesday, March 14, the Marana Town Council voted 5-2 to proceed with negotiations with The Humane Society of Southern Arizona (HSSA) to provide animal sheltering services.
Town Manager Gilbert Davidson says "The Humane Society shares the regional view of providing for the compassionate care and treatment of animals. The Town of Marana is looking forward to exploring how we can partner with them to provide the best possible service for our residents."
"We are very proud to be considered by the Town of Marana to assist them in their efforts to have the best proactive animal care for their animals. HSSA transfers in around 1,600 animals every year from local communities, we take in another 1,200 or so strays from Pima County, and we take in 3,400 animals whose owners can no longer care for them. No matter how they enter our shelter, every animal we take in receives the best possible care," says Brandy Burke, Chief Operations Officer.
The Humane Society of Southern Arizona expects to take in around 600 animals a year from Marana.
 "The services we'll be providing to Marana will be absolutely in line with our mission and our No Kill philosophy. We practice the 11 tenets of the No Kill movement, which means we never euthanize an animal for space or time. We are 100% committed to every animal entering our care. We are honored that the Town of Marana would entrust us with this responsibility,"  says Christian Gonzalez, Director of Operations.
Currently the Town uses the services of the Pima County Animal Care Center (PACC) which contract  expires July 1. The new agreement with the Humane Society will need to be in place by that time and is expected to cost the town $212,000 per year according to estimates by town officials. Marana would then hire two animal control officers to pick up strays and deliver them to the Humane Society. Town officials were not available Wednesday to discuss any cost savings or changes to service the move would bring.