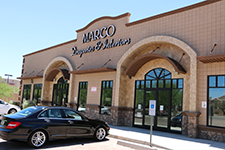 The sale of the Marcos Draperies Building, an 8,952-square-foot retail showroom built in 2008 was recently recorded. The location of the property is 4305 E. Bell Road in Phoenix, Arizona. The property sold to Dunn-Edwards Corp., who plans to occupy the building. The seller was Frushon Family Living Trust. The sales price was $2,200,000, which equates to $245.76 per square foot. The building was vacant at closing.
Mark Rein of Rein & Grossoehme represented the seller and Bruce Heathcote of Lee & Associates in Irvine, CA represented the buyer. Mark Rein specializes in the sale of shopping centers and has sold 94 such properties over the years.
To learn more Rein should be reached at 480.214.9400.