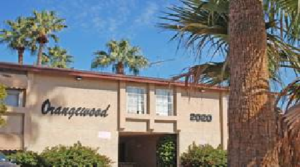 PHOENIX, ARIZONA – Marcus & Millichap (NYSE: MMI), a leading commercial real estate brokerage firm specializing in investment sales, financing, research and advisory services, announced today the sale of Orangewood Apartments, a 27-unit apartment property located in Phoenix, Arizona. According to Ryan Sarbinoff, regional manager of the firm's Phoenix office, the asset commanded a sales price of $2,150,000 or $79,630 per unit.
Richard Butler, senior vice president investments in Marcus & Millichap's Phoenix office as well as Sean Connolly, multifamily investment specialist negotiated the sale on behalf of both the seller, an out-of-state family partnership and the buyer, an out-of-state first-time partnership. Tyler Waller, loan originator with Marcus & Millichap Capital Corporation (MMCC) in Phoenix completed the financing for the transaction.
"We received multiple offers on the property very quickly, however new COVID-driven challenges caused complications," Butler explained. "MMCC was able to provide guidance and structure creative financing to make the transaction possible." The buyer plans to use rehabilitation funds from their lender to invest into the property, according to Butler.
"The seller utilized our services due to our market expertise and track record," remarked Connolly. "We provided advisory services to help our clients position themselves for success during this challenging time." This marks the third multifamily property sold on this street in the past year by Butler and Connolly.
Built in 1986, Orangewood Apartments is located at 2020 West Orangewood Avenue in Phoenix, Arizona and is comprised of 24 studios, two one-bedroom units and one two-bedroom unit.